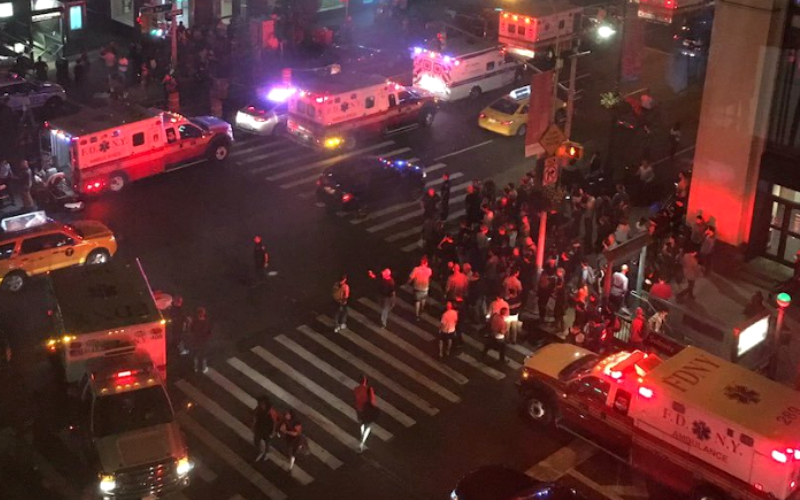 Explosion in New York City
On Saturday night around 8:30pm on 23rd Street in Chelsea district between 6th and 7th Avenues an explosion shook the area. At least 29 people were injured with 1 injured seriously, it was described as a deliberate and criminal act but not yet confirmed it was terror related.
New York City Mayor Bill de Blasio and city officials said initial investigations had ruled out the blast due to a gas leak, they are still investigating the device that triggered the explosion.
"Just before I got off the plane, a bomb went off in New York, and nobody knows exactly what's going on," Trump stated before NY officials released the official statement about the explosion. In what seems a statement to promote more fear and hate Trump was quote in saying "We better get very tough, folks."
Democratic presidential candidate Hillary Clinton stating that she was briefed on "the bombings in New York and New Jersey." But would await more investigation by Counter Terrorism Taskforce before commenting further, the more responsible answer.
New York City faced tightening security for the start of the U.N. General Assembly session this week. The session is expected to bring 135 world leaders and dozens of foreign government ministers to the city but there has been no evidence the explosion was linked to this event.
At this stage there has been no reported delays or cancellations to rail or flights. It has been announced that New York Governor Andrew Cuomo will deploy an additional 1000 New York state police & National Guard troops across transit hubs in New York City as part of an effort to show an additional level of force.
Post Tags: