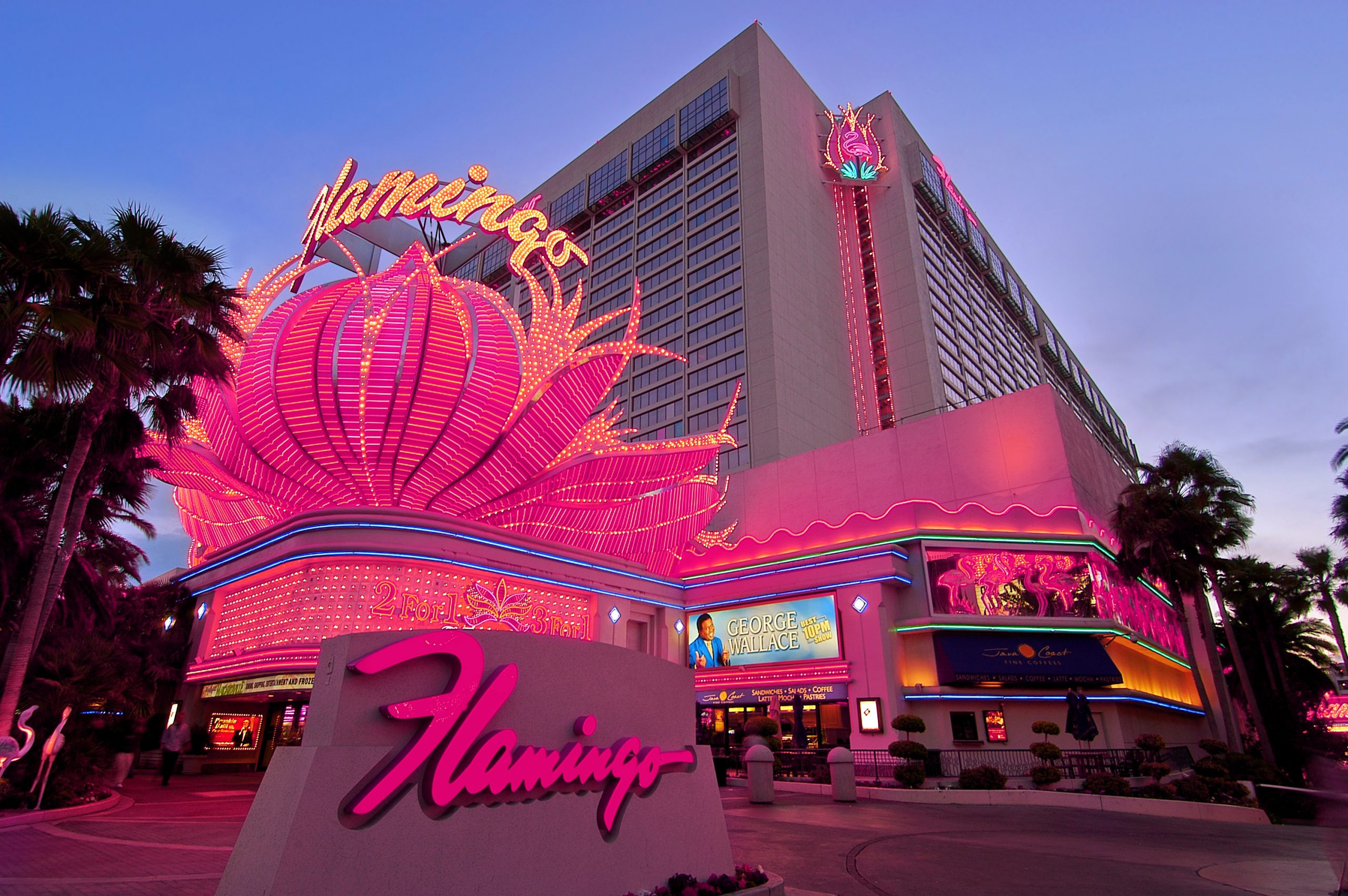 Flamingo Las Vegas
The first Casino hotel in Las Vegas, anchoring the four corners of Las Vegas Boulevard and Flamingo Road is the Flamingo Hotel right next to The Ling. The main Flamingo casino is Payout Paradise with 1,600 slot games including video poker and Megabucks. The Flamingo also features Bird Bar a 15,000 square foot casino complex with 220 slot machines and 14 gaming tables.
Flamingo Entertainment Options
"X" Burlesque adults-only show in intimate 180-seat Flamingo Cabaret club
Derek Hough: No Limit
RuPaul's Drag Race LIVE!
Piff The Magic Dragon (as seen on America's Got Talent)
Flamingo Recreation Options
Right in the middle of Vegas is a tropical Wildlife Habitat, Go Pool, a 15-acre Caribbean-style garden you can relax in a choice of 5 pools, a children's pool and 3 spa tubs. The Flamingo Beach Club offers resort pool guests a relaxing environment for all to enjoy while soaking up the sun and the lush Flamingo Habitat. The Beach Club is conveniently located next to the Beach Club Café which serves cooling beverages and yummy snacks.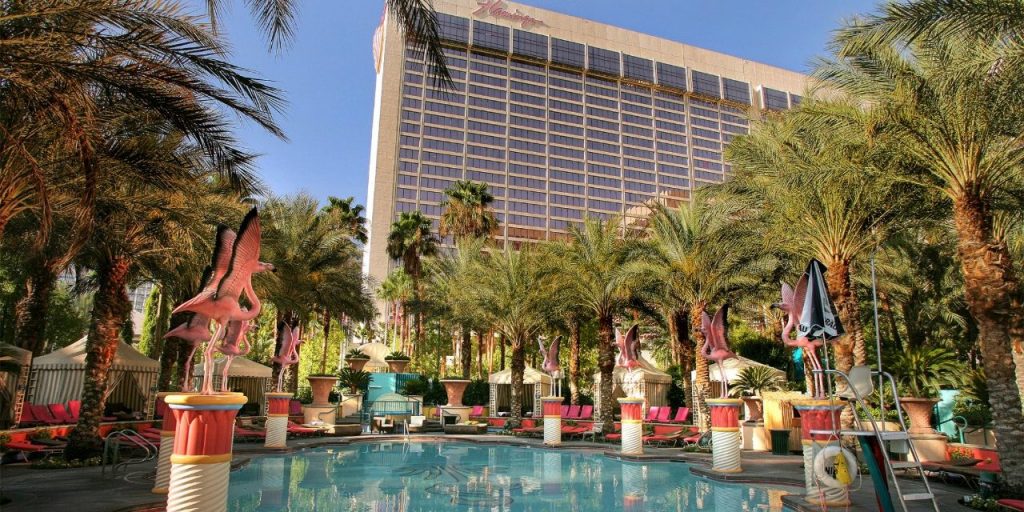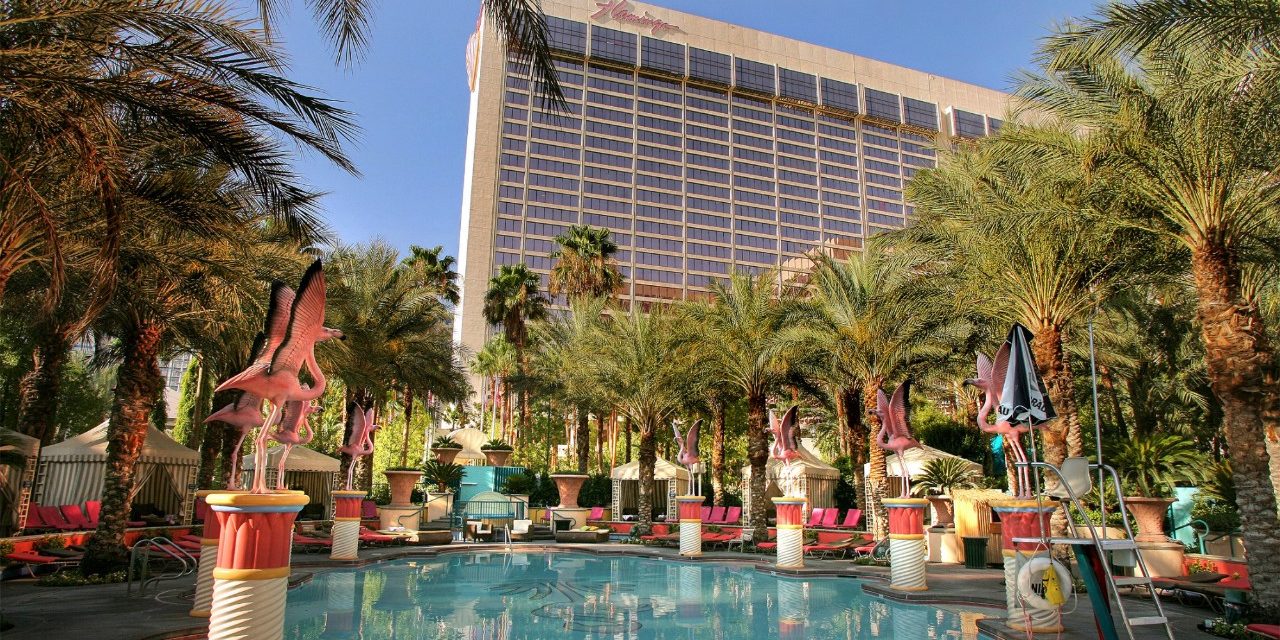 If you want something a bit more trendy then Go Pool Dayclub is where you need to be, relax VIP style by the pool while world class DJs play. Also note the Go Pool Dayclub maybe closed in winter.
Located in the foothills of the Black Mountains just 14 miles from the hotel is Harrah's Rio Secco Golf Club with 18-hole championship golf course which offers preferential tee times to all Flamingo guests.
Flamingo Non-Smoking Accommodation Options
Flamingo room (1 king) non-smoking
Flamingo room (2 queens) non-smoking
Flamingo executive suite (1 king) non-smoking
Flamingo room (2 queens + 1 bunk) non-smoking
Flamingo room (2 queens + 2 bunks) non-smoking
Flamingo junior suite (1 king) non-smoking
2 bedroom Flamingo bunk bed suite
Fab room (1 king) non-smoking
Fab room (2 queens) non-smoking
Forever fab suite (1 king) non-smoking
Go room (1 king) non-smoking
Go room (2 queens) non-smoking
Flamingo Premium room (1 king) non-smoking
Flamingo Executive room (1 king) non-smoking
Flamingo Executive room (2 queens) non-smoking
Go Executive (1 king) non-smoking
Go Executive (2 queens) non-smoking
Flamingo room High Roller View (1 king) non-smoking
Flamingo room High Roller View (2 queens) non-smoking
Go Room High Roller View (1 king) non-smoking
Go Room Strip View (2 queens) non-smoking
Go Room Strip View (1 king) non-smoking
Go Room High Roller View (2 queens) non-smoking
Flamingo Room Strip View (1 king) non-smoking
Flamingo Room Strip View (2 queens) non-smoking
Go mini suite (1 king) non-smoking
Royal Suite High Roller View (1 king) non-smoking
Neapolitan Suite (1 king) non-smoking
Cosmopolitan Suite High Roller View (1 king) non-smoking
Metropolitan Suite (1 king + 2 queens) non-smoking
Luxury Suite non-smoking
Go Room Pet Stay (2 queens) non-smoking
Flamingo Smoking Accommodation Options
Flamingo Premium Room (1 king) smoking
Flamingo Room High Roller View (1 king) smoking
Flamingo Room High Roller View (2 queens) smoking
Flamingo Room Strip View (1 king) smoking
Flamingo Room Strip View (2 queens) smoking
Go Room Strip View (1 king) smoking
Go Room Strip View (2 queens) smoking
Flamingo Executive Suite (1 king) smoking
Flamingo Restaurant Options
Club Cappuccino
Flamingo Food Court
Cafe Express
Bugsy & Meyer's Steakhouse (coming soon)
Paradise Garden Buffet
Beach Club Bar & Grill
Margaritaville Las Vegas
Carlos 'n Charlie's Restaurant Las Vegas
Airport Distance: 3.9km from McCarran International Airport
Luxury Suites: 3665 suites
Penthouses:
Height: 28 stories
Built:1946
Refurbished:2004,2009,2017
Rules:
Guest Age: Minimum check-in age is 21
Pets: Petstay rooms only
Check-in Time :4pm
Check-out Time :11am
Average Price Low: AUD $60 per suite
Average Price Mid: AUD $108 per suite
Average Price High: AUD $190 per suite
Address: 3555 Las Vegas Blvd South, Las Vegas, Nevada 89109