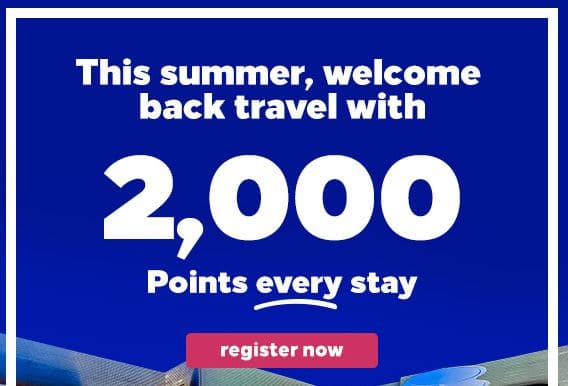 Hilton Honors 2,000 Bonus Points + flexible cancellation
Hilton Hotels have starting their marketing campaign to Hilton Honors members which their summer promotion to get people back in their hotels after Coronavirus. Their general offer seems reasonable enough more rewards and greater travel flexibility for Hilton guests.
From the 5th August 2020 until 7th September 2020 you can earn 2,000 bonus points per stay with an extra 10,000 bonus points for every 10 nights you stay.
As for increased travel booking flexibility any individual reservation made by the 31st August 2020 for a future arrival date can be changed or cancelled at no charge up to 24 hours prior to your scheduled arrival date.
Hilton Honors Bonus Terms & Conditions
Offer valid for stays completed 6 January – 7 September 2020 ("Promotion Period") at any hotel or resort within the Hilton Portfolio. Hilton Honors™ members must first register prior to completing a stay within the Promotion Period. Registered Hilton Honors members checking in before 6 January 2020 will receive credit for their stay if the stay is completed on or after 6 January 2020 and prior to or on 7 September 2020. Registered Hilton Honors members will earn 2,000 Bonus Points per stay during the Promotion Period, as well as an additional 10,000 Bonus Points for every 10th night completed.
There is no limit to the total amount of Bonus Points that may be earned during the Promotion Period with this offer. The 10,000 Bonus Points award can be earned an unlimited number of times. Each time a member achieves 10 nights, 10,000 Bonus Points will be awarded and the member's night count will reset. Additional nights earned over the 10 night threshold in a stay will count towards achieving the member's next 10,000 Bonus Point award. For examples and further details, please see the FAQ page. There are restrictions on the amount of Base Points that can be earned on a single stay at certain brands.
This offer may be altered or terminated without notice. Bonus Points do not count toward elite tier qualification. Please allow six to eight weeks from completion of your stay for Bonus Points to appear in your account. A 'stay' is defined as the total number of consecutive nights spent at the same hotel, whether or not a guest checks out and checks back in again. Offer is not valid for groups and cannot be combined with other select offers. In-Room Internet Access, Fitness Center/Health Club Access and Bottled Water benefits may not be complimentary at properties with a resort charge. Space-available upgrades only available at select brands. Elite status benefits are subject to availability and vary by brand.
This article is also available in: