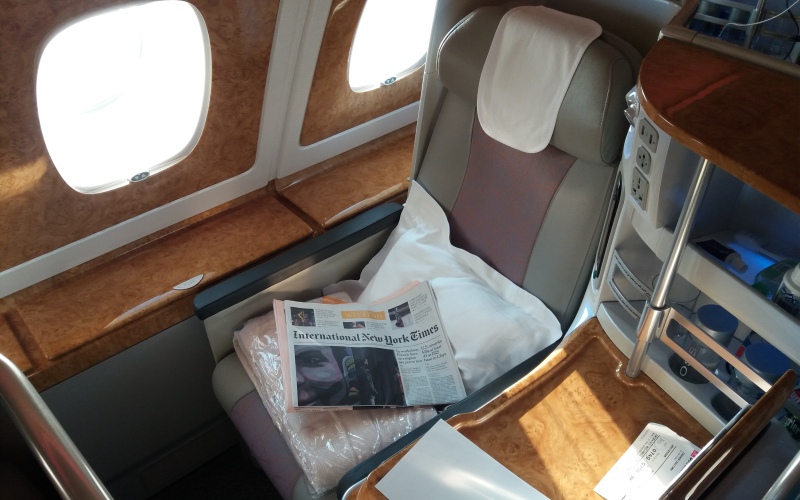 Emirates Business Class Hong Kong to Amsterdam
I was lucky enough to fly business class on a recent trip back home to Australia because it was actually cheaper than premium economy on other airlines. There was a special sale going on when I was looking at my flight options and found a deal for 1600 euros return Amsterdam to Hong Kong which was awesome. It's also great as there are always plenty of things to do in Hong Kong.
I agree with some of the other reviews that sometimes the staff are a little abrupt and I found the service on the flight back from Hong Kong to Amsterdam not as good as I had hoped. The Emirates Hong Kong to Dubai dinner menu was quite good as you can see below, they have good option of chicken, fish or vegetables.
I went with the option of chicken which tasted far nicer than it looked, I must admit that the presentation of the food was a little bit less than I was used to on Emirates but it tasted good.
I had a 2 hour layover in Bangkok which basically meant sitting aboard the plane while the cleaning crew moved about the plane, luckily enough the ground crew ensured we remained happy and stocked up the drinks in our seats and any treats that had available for passengers. The wait wasn't so bad I got a chance to finish a full movie (had to restart it a few times due to entertainment system issues), the staff that were onboard dropped by every once in a while to make sure I was ok and chat a bit about my trip which was nice.
I took advantage of the food and entertainment for the first half of the leg until Dubai. I have to say breakfast was much nicer than dinner, with a lovely glass of fresh juice just what you need to refresh.
Once in Dubai I made use of the lounge to have a shower, get changed into some fresh clothes and enjoy some great food and catchup on the news via the several global newspapers they had available. If you are going to have a shower I would suggest dropping by the shower facilities near A2 gate it often has a wait for a spot but the staff do a wonder job of ensuring the facilities are 100% perfect for travellers.
It was a light breakfast after departing Dubai which was ok because I had eaten plenty of food in the business lounge while I was waiting. I headed to gate B32 which was a bit of a walk away and it could have been the lack of sleep but I found it quite amusing how pushy some of the passengers were to try and get onboard the flight before anyone else could.
I was seated in 9K which offered me a window seat which allowed me to enjoy the view as we took off and headed back to Amsterdam.  The leg from Dubai to Amsterdam was basically the part when my body clock took over and I caught up on some sleep.
They give you stickers in your eye mask/sock packets as to if you want to be woken up for a meal or duty free purchases, I suggest using them as I was rudely woken by a flight attendant when in a deep sleep on the final leg from Dubai to Amsterdam who wanted to know if I wanted food.
I was in such a deep sleep I could barely think, I managed to mumble out what is it, she replied after a chance to think I concluded that it didn't sound enticing enough and I rolled over and went back to sleep. If I used the damn stickers I would have had a nice uninterrupted sleep… was not impressed but maybe that was just lack of sleep that made the issue feel worse than what it was…