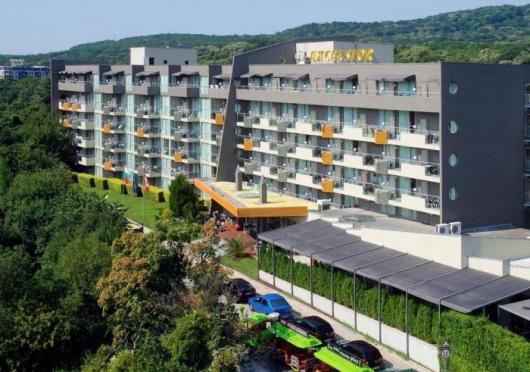 Hotel Excelsior Golden Sands
Guests looking for a fun filled holiday with family can look forward to staying at the Excelsior Hotel situated in the Golden Sands resort. The complex is located a mere 300 meters from the beach and can be accessed through the park or free shuttle bus services.
The hotel is renowned for having a rich sport and animation program which is why it is so popular with families. Recreational activities include the following facilities –
Pool facilities
Sun chair/parasol
Gym
Table tennis
Kid's club
Besides regular evening shows, guests can also be provided with billiards tables and massage therapies for a fee. Breakfast, lunch and dinner are served buffet-style in the fully furnished main restaurant. Visitors who do not care for the buffet also have a choice of a la carte dinners at The Old Tree restaurant.
The rooms at Hotel Excelsior are spacious and tastefully furnished and they come in the following varieties –
Single Room
Double Room
Double Superior Room
Hotel Suites
Other facilities include air conditioning, refrigerators that can be used as mini bars on request and satellite TV. Bath tubs are only limited to suites.
Guests can also amuse themselves with the local attractions like the Aquapark swimming pool located 1.5km away and the Aladja Monastery situated 4km from the complex. Other local tourist hotspots include the Varna Dolphinarium and Cathedral that are located within a 10 to 20 minute drive from the hotel.
Hotel Excelsior – Golden Sands Address
Golden Sands, 9007 Golden Sands, Bulgaria