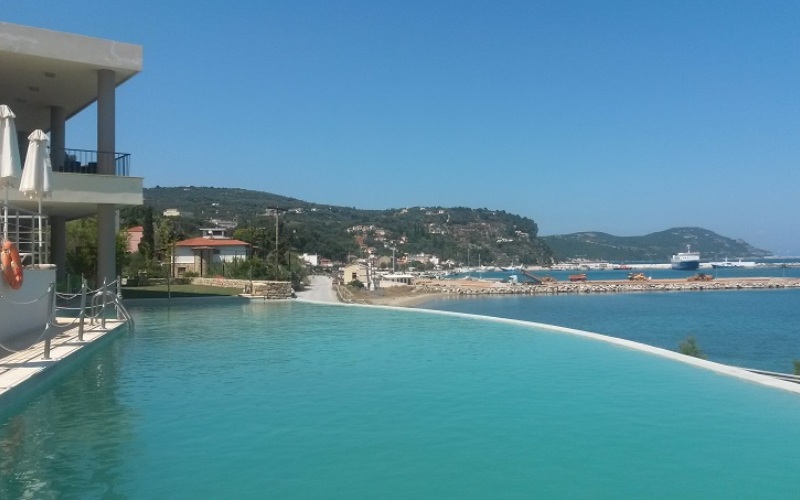 Kymi Palace Review
The pool area was amazing and perfect for summer. The rooms were nice and we had a lovely view over the sea, which was tops. It would have been better atmosphere if there were more guests but did make it feel like we had our own private hotel which was kinda nice but also a bit lonely at breakfast.
While their staff were warm and super helpful, it was a shame the weather wasn't better when we visited as that made some items annoy us more than usual. There were definitely several items that annoyed us when staying here, it wasn't a luxury resort it was more a conference resort which was disappointing.  It would be a brilliant location for a conference but for a romantic and relaxing weekend not so much the best option. The weather also sucked most of the days as you can see from the photo below.
The downside was to the pool area was that it was next to the main road, which was an issue because there were trucks travelling back and forth while the nearby port area is upgraded. The location was interesting as you expect sea views but it's just water views due to the artificial harbour being constructed infront of the hotel.
The directions could have been better, best head towards Kymi port and note that the Google Map marker is about 1km too far down the road. The island is not that big but the signs are terrible and it's very easy to get turned around and end up lost. The streets are fairly narrow in the small villages so be warned if you have a large rental car that you might get stuck. The upside is that some of the locals were quite friendly and John invited us into his home for a chat and gave us a huge bag of fresh Apricots to take-away with us when we visited the nearby fishing village.
While we were staying there was a reasonable amount of bad weather but when the weather cleared we managed to explore some of the island and found some quaint little fishing villages. You can see below the wonderful sheltered swimming area we found for a relaxing swim.
The resort staff were helpful but there were some basic mistakes such as room service came without cutlery, the venue was basically deserted so it can't be that they forgot because they were over worked.  When we ordered room service our food was also barely warm by the time it arrived in the room because they forgot what room we were in.
While breakfast and the restaurant menu was very classy and fancy it would have been better if they just had some basic items and not try for a 6 star menu. I expected far more authentic greek food and since the owner also owns a local restaurant in town I would expect a high standard of food and much more authentic.  We did find some local restaurants that offered some fairly reasonably priced and super fresh food, including the whole fish that they let me pick.  I don't really like seafood much so it was a nice treat to be able to be selective and pick the fish that looked the freshest and had the least amount of bones in it.
Wifi was horrible
The WiFi was hit and miss but it seemed to almost vanish when it was raining which was often when you wanted to use it most to work out what else you could do.
Kymi Palace Hotel Facilities
Pool Bar (closed when we stayed)
Gym
Swimming Pool
Spa
Restaurant
Undercover Parking
Lounge/Entertainment Area
If you are catching the ferry to Skyros (Skiros) then sure Kymi Port is a decent place to stay but be warned you need a car if you are staying here. Also be aware that the ferry to Skyros only runs once a day each way….
But my advice is to not worry if you are here in peak season as there are plenty of bars, clubs and restaurants to keep you entertained, it's just in off-season that the place is mostly a ghost town.  Still the locals are super friendly and helpful but you can see how much they are hurting from the financial crises still with very few Greek visitors.
I stayed here in June 2014
Kymi Palace Address:
Paralia Kymis, Kymi 340 03, Greece