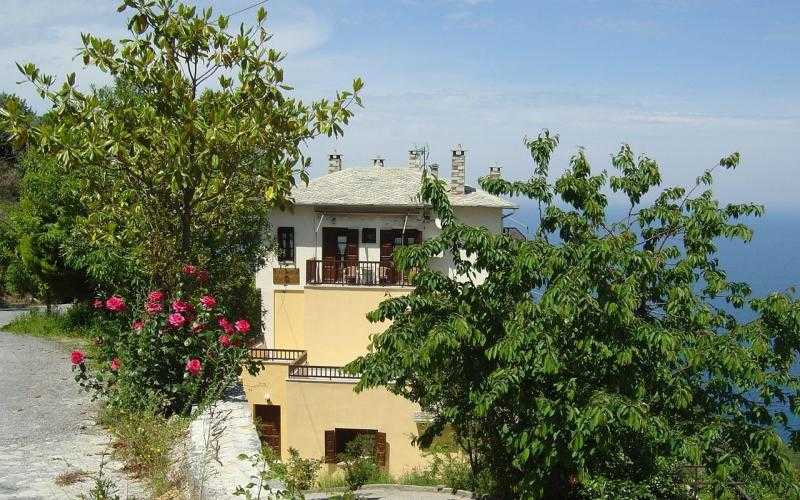 Aggelika Review
The hillside Tsagarada location of Aggelika Guest House is exceptional awesome with the hotel rooms offering you amazing panoramic views over the Aegean Sea. We found that Aggelika was the perfect place to unwind and relax on a romantic holiday, with the sun terraces being a perfect chance for some private nude sunbathing. The hotel location is around 55 kilometers from the city of Volos so you will need a car to get here but when you arrive you won't want to leave!
When you are staying here you get the perfect opportunity to explore the Pelion Mountain region, just be aware of travel times to get to other beaches is longer due to the mountain roads so don't try and do everything in one day. Ensure that you use a GPS to follow the co-ordinates on your booking details as the road signs to get to the location otherwise you might get lost.
Aggelika Room Options
The owner was very helpful when we arrived and took us on a tour to several different rooms and eventually we selected an upper floor room which was on the top left side of the building.  This room was the most peaceful option and offered an amazing view of both sunrise and sunset each day. The balcony was a wonderful size which was perfect to take advantage of the amazing views but the bathroom was a little small which was the only item that slightly distracted from the experience.
If you are looking to stay here they have 3 room options:
Standard room with seaview
Standard room with seaview and fireplace
Superior room with seaview and fireplace
This hotel was also wonderful because they made you feel part of the family with amazing fresh breakfast made each day with fresh fruits picked from the garden.  I can assure you that you won't be disappointed with the location and the staff will do everything to make your stay enjoyable while you are here. The daughter of the owner was very helpful ensuring we knew what activity or tour options we had in the area and recommending some great hidden gems to explore.
It's just a 2 kilometer walk down to Μυλοπόταμος beach, and the staff also offer to drive you if you are feeling lazy, but I'd recommend the walk it's really a great way to see more of the area and get some amazing photos.  It's likely that after a few hours relaxing onΜυλοπόταμος beach you will fall in love with the place.  When you are getting hungry after some swimming, I'd suggest grabbing some lunch at the nearby Aggelika Restaurant.  It's a nice place to eat with plenty of locals there when we were there and it is run by the same family that own the guest house and their prices and portion sizes are pretty good.  I had a wonderful spaghetti bolognese, and a salad with amazingly fresh feta cheese.
Aggelika Guest House Address
Tsagarada, Tsagarada, 37012, Greece