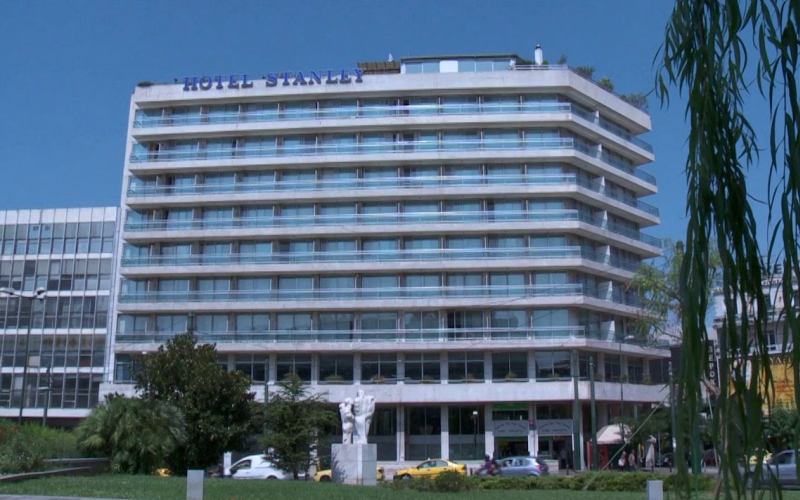 Stanley Hotel Review
The checkin process was fast and they were organised which was a welcome relief as we arrived late in the night after travelling back from Paros by Ferry.  We only really stayed a few hours enough to have a sleep, some breakfast and a shower before leaving. Amazing selection for breakfast if Homer Simpson stayed he wouldn't have been able to finish everything, really good work on a great breakfast!
The big advantage is the location is right near ΣΤ.ΜΕΤΑΞΟΥΡΓΕΙΟΥ Metro station, the M2 Red line that takes you to most of the main tourist attractions in the area, we also had an awesome view of Acropolis from our Balcony. The downside is that it's location is right by a roundabout and even on the 8th floor we heard a reasonable amount of road noise, there was a second window we discovered in the morning that you could close that did help better soundproof the room.
I almost forgot there is an awesome rooftop bar and lounge area with a pool which was a wonderfully relaxing way to refresh before the trip to the airport and flight home.
We stayed in a Superior Room with an Acropolis View that offered a different perspective than the original Athens hotel we stayed at on the first night in Athens.
The Stanley Room Options
I would strongly recommend the superior view with Acropolis view, it's worth the extra money.
Single Room (1 adult)
Double Room (2 adults)
Double with extra bed (3 adults)
Triple room (3 adults)
Family Room (2 adults + 2 children)
Junior Suite (2 adults)
Superior Room with Acropolis View (2 adults)
Stanley Hotel Address:
1 Odysseos St | Karaiskaki Square, Athens 10437, Greece