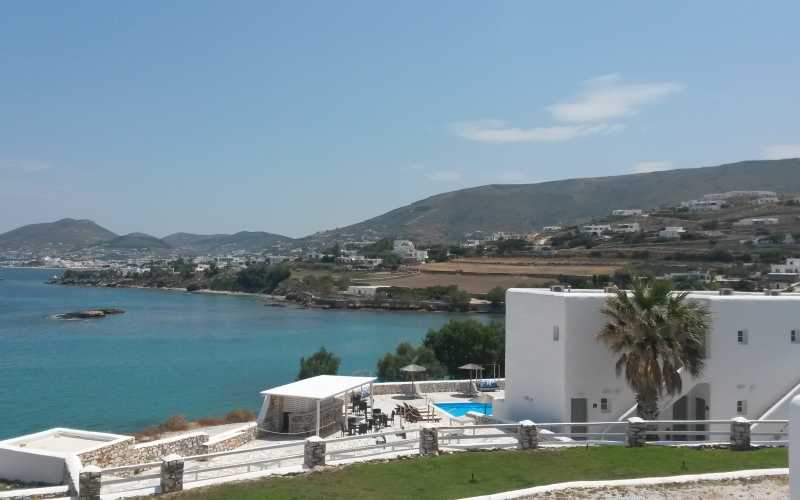 Paros Bay Review
In June 2014 we travelled to Greece and Paros was one of the many locations we visited and probably our favourite location. The local Greek people were friendly, the food was amazing, the hotel location by the beach was epic and well the weather was wonderful! Just remember that like most properties in Greece the hotel is closed during European winter.
We picked this location was it was a balance between not being too big so that it felt like a busy resort and not being too small that it didn't have it's own resturant or facilities like a pool.  The resort only has 64 rooms but it feels much smaller due to the wonderful Cycladic style buildings in a spare resort layout and the rooms are well placed around the property.
Staying here was wonderful as our view each morning was a gorgeous sunrise over the bay and the sunset each night was epic! Below you can see the amazing sunrise view from our hotel balcony over the bay. The room was quite and peaceful and allowed you to get a proper nights rest after a busy day exploring the island, swimming in their outdoor pool or catching up on some overdue reading time.
The entrance to the resort is a lovely building shown below that features a restaurant, lounge, patio and bar area. Each morning a wonderful breakfast buffet is provided for guests with some amazing Greek treats and specialties to enjoy.
Just a few minutes walk away from the resort there was a few private beaches that allowed you the chance for swimming in your birthday suit if you felt open enough…. (ie naked) without being disturbed.  There is also a family friendly beach on the otherside that features a great beachfront restaurant that features some great sun lounges.
Paros Bay has a wonderful pool area and is perfect for relaxing, there are plenty of sunbeds and lounges to relax.  Most also have umbrellas to give your skin a break from the often tough Greek sun. Their pool area is a wonderful place to catchup on some reading with a cold beer and can certainly recommend booking enough days here to experience both the island and the resort.
Also they offer a super cheap laundry service that charge by the bag so great if you are worried you don't have enough clothes packed for your whole trip. Many hotels charge laundry by weight so cleaning anything beyond underwear and socks becomes quite expensive, so yet another positive note about the hotel.
Paros Bay Rooms
We stayed here in June 2014 in a Double room with a sea view.  The room was comfortable and oh so very cute but the like several other locations we stayed at the room's bathroom was a little bit small, so sadly no couple showers possible.
The room was fairly basic but did have a fridge that kept the beers cold and a safe to ensure passport and valuables were kept safe.  The hotel provided shampoo and conditioner was wonderful and smelt amazing!
There are several other room options such as:
Standard Room with Garden View
Single Room with Garden View
Single Room with Sea View
Standard Triple Room with Garden View
Standard Triple Room with Sea View
Standard Room with Sea View
Quadruple Room with Garden View
Paros Bay Services
On the last day they helped me organise a private massage which was epic and a great way to finish a holiday.
It was a great massage with the sound of the ocean in the background, certainly a very tranquil experience.  It was a little bit more expensive as they had to arrange for someone to travel to the resort just for me, it would have been good if they had some scheduled times you could book as I'm sure more guests would consider getting a massage.
We booked a tour to visit Santorini Island when we were in town as we thought it would be cheaper, sadly they advised there was no shuttle and we would have to pay extra for transfers.  When we told the reception at the hotel they said we were silly having booked it in town as they could have done it all for us. The reception went one step further and contacted the tour operator we booked our tour with and advised no they were incorrect and the shuttle bus would pick us up free of charge.  The staff were ever so helpful doing small things like this for guests including helping us find interesting places to visit around the island.
Paros Bay Improvements
The wifi was a bit spotty near our room so the only wifi connection was possible by the stairs leading to our room or leaning over the balcony at the front of the room.
I accept that we did have the furthest room on the edge of the resort so WiFi was likely to be more patchy so the peace and quite of our room made up for the spotty WiFi.
You could hire a bike but I'm not sure how comfortable most people would be riding along the side of the busy road back to town.
The resort is a bit far from the town of Paros to walk as you have to walk along the edge of the road but taxis are 5-6 euros and easy enough and would recommend using them to get around.
Paros Bay Address:
Parasporos, Parasporos, 84400, Greece