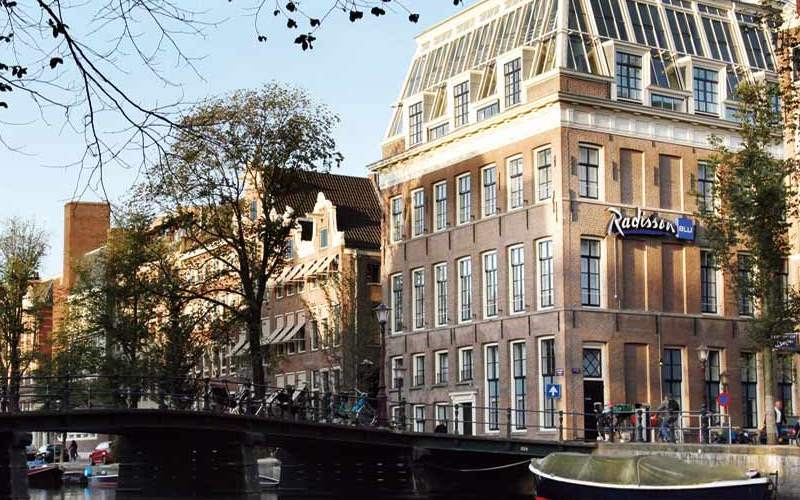 Radisson Blu Amsterdam Review
I stayed here for several nights when I arrived in Amsterdam, the location was good and quite spacious which was welcomed after a long flight. My taxi took my straight to the hotel from Amsterdam Schiphol to the hotel. The hotel is fairly large with 252 guest rooms, and fits right into the neighbouring buildings quite well. The hotel rooms are fairly modern but the inside of the lobby area is starting to look a bit dated and should be due for a refurbishment soon. The hotel is also pet friendly for a small additional charge and is fairly accommodating to small families but I advise to get a slightly larger room if you can afford it.
Radisson Blu Amsterdam Room Options
Standard room
Superior room
Business class room
Junior suite
Ruyschen suite
New Amsterdam suite
Mezzanine suite
Checkin Process Sux
The one thing that could be improved was the checkin they just don't seem to be able to get the process flowing smoothly.  I've been back since and there is always line lines and confusion amongst the guests checking in.  When I stayed I needed to access my internet banking to transfer some money to pay for my room but it was a catch-22 as they said they couldn't give me the wifi password until I checked in.
The problem was that I couldn't pay for the room until I had wifi access and could transfer some money to my other account.  It was all a very stupid set of rules but after much arguing they eventually did me a "favour" by giving me guest wifi access so I could access internet banking.  It annoys me when staff do their job and advise they are doing me a favour by giving me access to their "free wifi" network.
The same strange process for checking your bags into storage as the hotel is very strict on checkin times, it's also mostly organised choas.  You would think they would have this whole luggage thing sorted by now since they are part of a global hotel group.
Location is good
The hotel was a perfect location as it was walking distance from most things but was far enough away from the tourism chaos of the red light district. It does look like the entire hotel is on a canal but most of the rooms just face the street or other a building opposite.  The hotel would be much better if they had some decent views from a majority of the rooms.
Breakfast buffet is awesome
I would have to say that the morning breakfast was amazing, there was a great buffet selection of European and American style breakfast items.
The Radisson Blu was certainly a great hotel to stay at when visiting Amsterdam for a short period of time.
I stayed here in July 2013 in a standard room
Radisson Blue Hotel Address
Rusland 17, 1012 CK, Amsterdam, The Netherlands