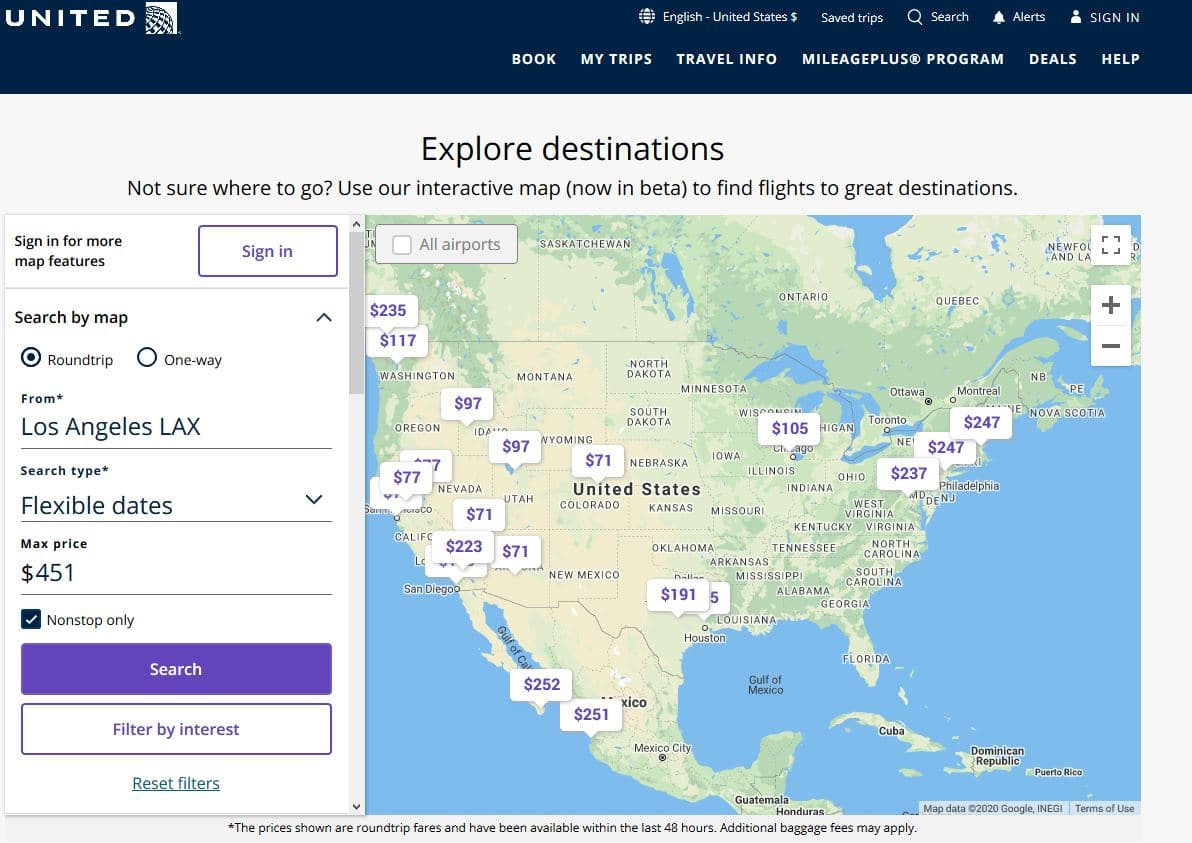 United Airlines uses Google maps to find destinations
In an effort to help keep customers on it's platform United Airlines have launched an interactive Google maps search for their customers. United is the first airline to offer this feature but it may appear on other airlines soon if it's found to be help drive an increase in passenger bookings. The new explore destinations map allows travellers to find new travel destinations based on destination but also set a maximum price if they are on a budget.
The destination exploration tool tries to capture some of the research and discovery that happens on other sites such as TripAdvisor and overtime it may reduce the reliance on search engines that offer simpler searching like SkyScanner or Kayak. The search engine is actually powered by Google Flights which increases United Airlines dependence on Google Flights for sales.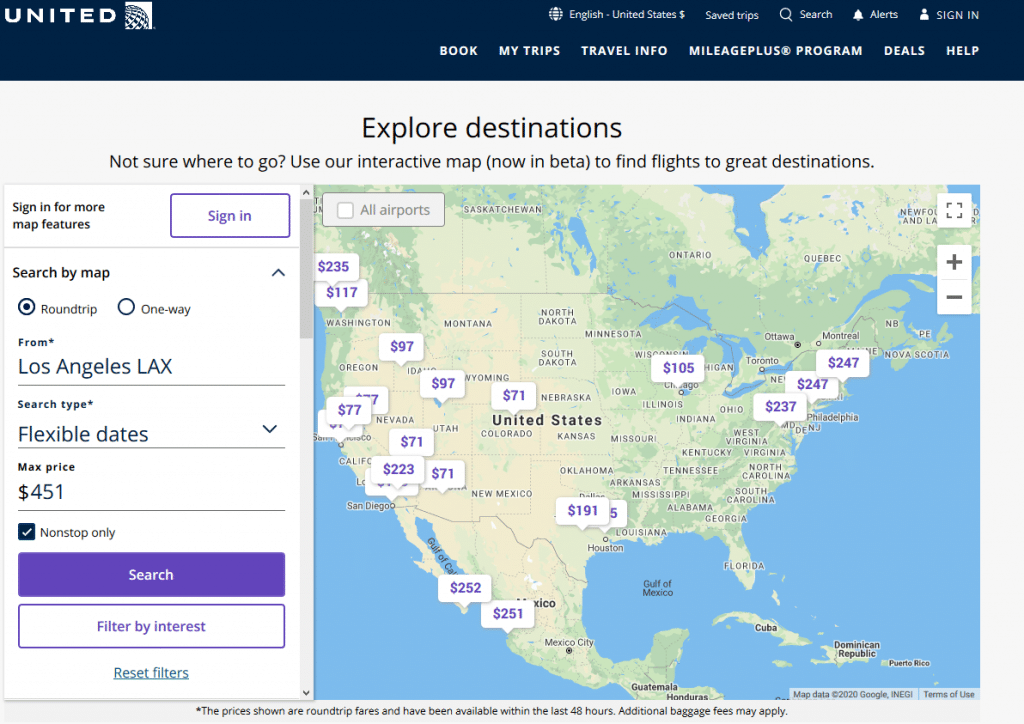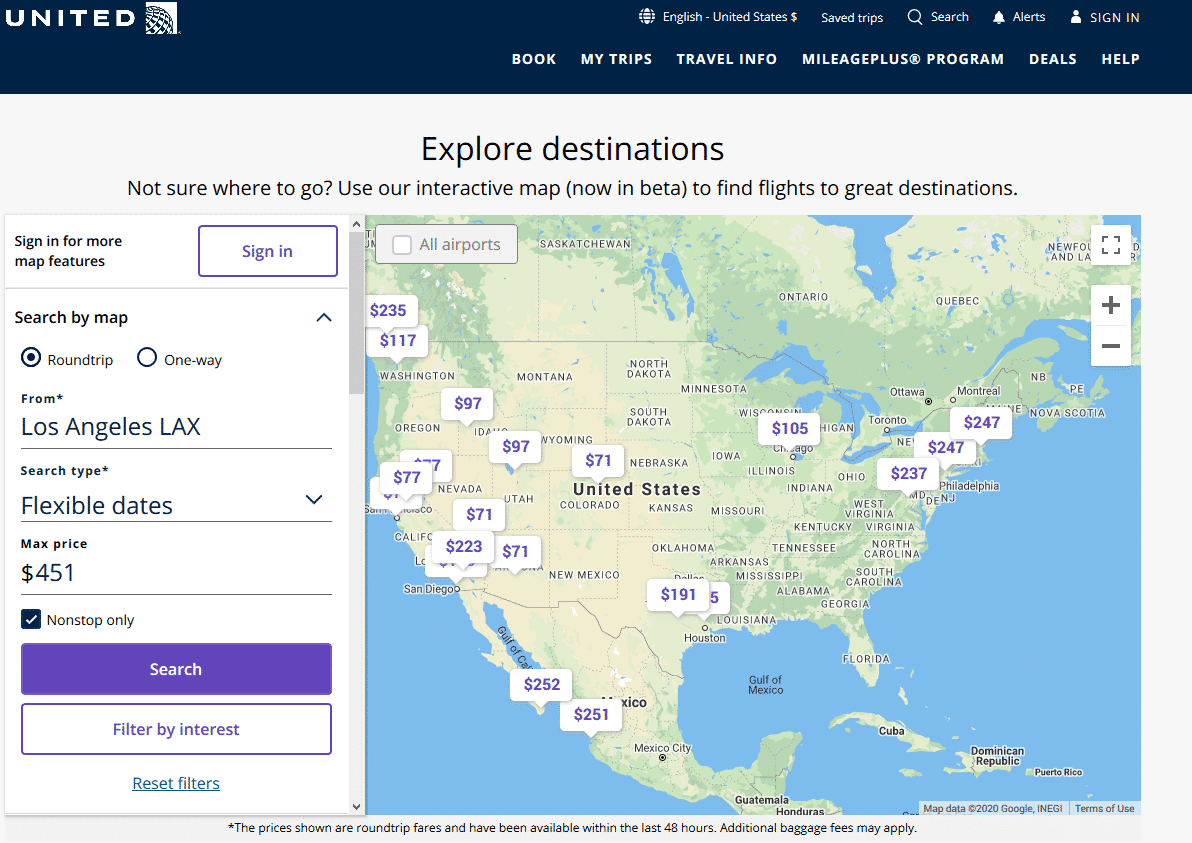 "We've reinvented the way people search for flights and introduced something new for our customers that is simpler, provides better results and is easy to use," said Linda Jojo, Executive Vice President for Technology and Chief Digital Officer. "Leveraging the power of Google's Flight Search technology, we are able to provide an all-in-one solution that streamlines the search process and allows our customers to more easily find the flights that work best for them."
United also offers the abilities for travellers to filter the locations based on the type of activities they are looking for. It's smart to allow guests to use the explore option to discover new locations they might not have traditionally visited. You can also select multiple interests if you want to find somewhere with beaches, beer and the outdoors…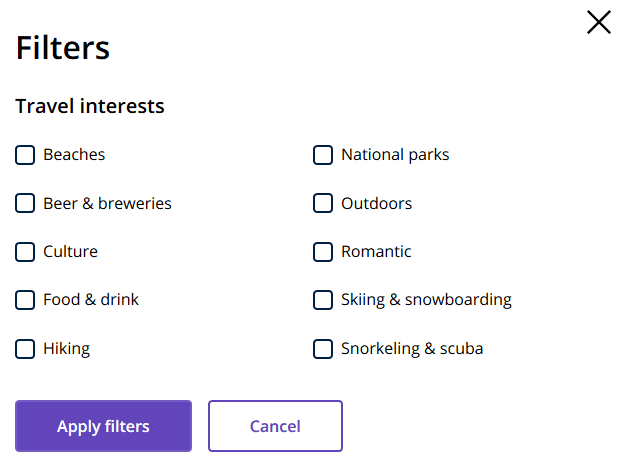 Some of the travel destinations are found from LAX using the travel interest filters are:
Beaches – SFO, ORD, SAN, BOS, PVR, SJD, YYZ, OGG, KOA, LIH, HNL
Beer & Breweries – DEN, LAS, PHX, IAH, ORD, SEA, SAN, AUS, BOS
Culture – DEN, PHX, IAH, SFO, SLC, ORD, SEA, AUS, PSP, YVR, BOS, EWR
Food & Drink – DEN, LAS, PHX, IAH, SFO, ORD, SEA, SAN, AUS
Hiking – DEN, PHX, RNO, SLC, SEA, AUS, YVR, PVR, OGG
National Parks – DEN, LAS, PHX, SMF, SLC, ORD, SEA, PSP, OGG
Outdoors – DEN, LAS, PHX, RNO, SFO, SMF, SLC, ORD, SEA
Romantic – DEN, LAS, PHX, RNO, SFO, SMF, SLC, ORD, SEA, SAN, AUS
Skiing & Snowboarding – DEN, RNO, SLC, YVR
Snorkeling & Scuba diving – PVR, SJD, OGG, KOA, HNL
Source: https://hub.united.com/2020-09-23-united-launches-online-map-search-feature-a-first-among-u-s-airlines-2647778485.html
Post Tags: