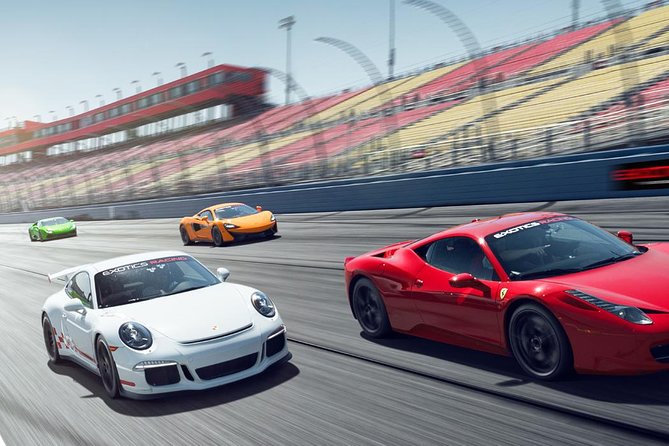 Exotic Car Driving Experience Las Vegas
Las Vegas is focused on ensuring it delivers everything that you could want no matter how exclusive or expensive it is. So it's no wonder that Las Vegas also offers visitors a chance to experience driving amazing exotic supercars at the Las Vegas Motor Speedway. Las Vegas is one of the few places that give you the opportunity to behind the wheel of a high-powered supercar and discover it's true power.
Exotic Car Choices**
Ferrari

Ferrari F430 F1
Ferrari 458 Italia
Ferrari 488 GTB
Ferrari 488 Pista

Lamborghini

Lamborghini Gallardo LP550-2
Lamborghini Huracan LP580-2
Lamborghini Huracan Performante
Lamborghini Aventador LP700
Lamborghini Aventador S

Porsche

Porsche 718 Cayman GTS
Porsche 992 Carrera S
Porsche 991 GT3
Porsche 991 GT3 RS Gen1
Porsche 991 GT3 RS Gen2
Porsche 991 GT2 RS

Chevrolet

Chevrolet Corvette C7 Z06
Chevrolet Corvette ZR1

Other supercars?

Aston Martin Vantage
Audi R8 V10 Plus
Dodge Charger SRT Hellcat
Mercedes AMG GT R
McLaren 570s
Nissan GT-R Premium
Acura NSX
Ford Shelby GT500EXR LV02
**Cars might change due to availability on the day
Exotic Car Driving Experience Power Package
Drive up to 5 laps around Las Vegas Motor Speedway in 2 choices of high-powered supercars after receiving specialised one-on-one driving training.
Tour Duration: 2 Hours
Exotic Car Driving Experience Elite Package
Drive upto 10 laps around Las Vegas Motor Speedway in 2 choices of high-powered supercars after receiving specialised driving training.
Tour Duration: 2.5 Hours

What happens on race day?
Arrival & Registration

Our friendly team will welcome you for an unforgettable experience

Technical Briefing

Learn the most efficient techniques to drive on our racetrack

Track Discovery Laps

Exclusive at Exotics Racing! 2 Free discovery laps in a Porsche Cayenne

Driving Experience

Get behind the wheel of a powerful supercar on our racetrack

Add Cars, Laps, Ride-Along & Go-Kart

Enhance your experience forever by adding more supercars, laps, ride-along and go-kart

On-Board HD Video, Photo & Check Out

Treasure your experience forever by purchasing the On-Board HD video and customised photo
Supercar Driving Experience frequently asked questions
Dress code? No racing suits are required. Open-toe shoes, sandals, and high-heels are not allowed. Close-toe shoes will be provided to anyone who does not have proper footwear.
Drivers License? Your driver's license can be issued from any state or country. Drivers must be at least 18 years old. Ride-along passengers must be tall enough to safely sit in the passenger seat of the car while properly wearing the car's standard seatbelt.
Insurance & Helmets? You must properly wear your helmet throughout the entire time in the car as a driver and passenger. Helmets are provided at no cost and all standard helmet sizes are available. Insurance is included with no deductible.
Las Vegas EXR Driving Center? Our Las Vegas EXR Driving Center is a state-of-art 14,000 square feet of hospitality space and provides premium services with private café, relaxing lounges, Wifi, AC and VIP area. Drivers and guests can watch the supercars on track from the panoramic rooftop terrace with an astonishing view on the whole racetrack.
Transportation? We offer a complimentary shuttle service from the ARIA Resort & Casino to our Las Vegas racetrack. We also provide a complimentary parking if you want to come with your own vehicle. Other easy and affordable transportation services such as Uber or Lyft will be the quickest and most flexible way to get there. For the Supercar experience, ride in a limo with our partner Presidential Limousine.