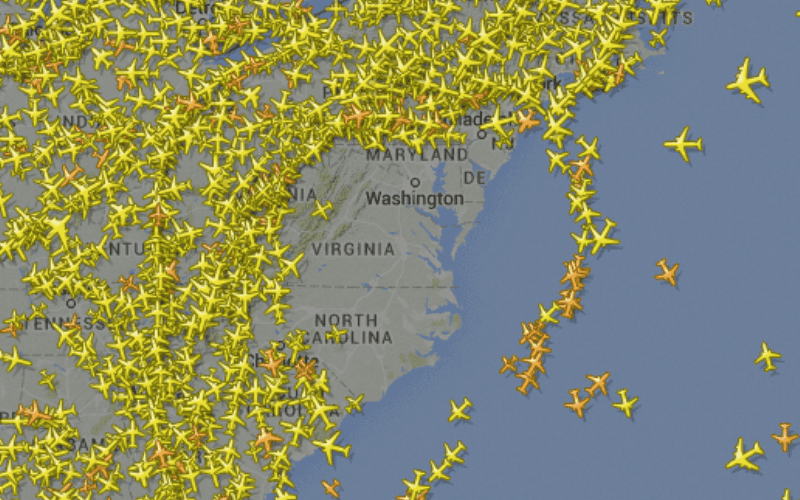 Flight Delays across Washington & New York Airports #flypocalypse
Earlier today there a computer glitch with ERAM (En Route Automation Modernization) the next generation air traffic control system that is being gradually rolled out across the USA which started 18 months ago.  The system was designed to allow air-traffic controllers improved guidance of flights and the ability to handle significantly more flights across the nation.  Below you can see the knock-on effect across the nation as officials had to start re-routing traffic away from the affected airspace and will have further delays across the country due to the importance of the east cost hubs affected.
As you can see below FlightRadar24's live map of flights showed an eerie scene with the airspace above Washington DC cleared of flights. On a zoomed out map view you can see that the glitch also affected international flights into the east coast.
While it appears things are starting to return to normal weekends are the busiest travel times with cancellations and delays compounding the stress for travellers who are making the most of the situation by venting on social media with the hashtag #flypocalypse
US Airports Affected by Computer Glitch
Washington Dulles International Airport (IAD)
Ronald Reagan Washington National Airport (DCA)
Baltimore-Washington International Airport (BWI)
John F Kennedy International Airport (JFK)
La Guardia Airport (LGA)
Apparently the ERAM project was officially completed on the 30th July 2015 as per the US governments IT dashboard. So it will be interesting to see what is the official announcement about the glitch considering the system should be complete and apparently fully operational according to the Agency CIO.