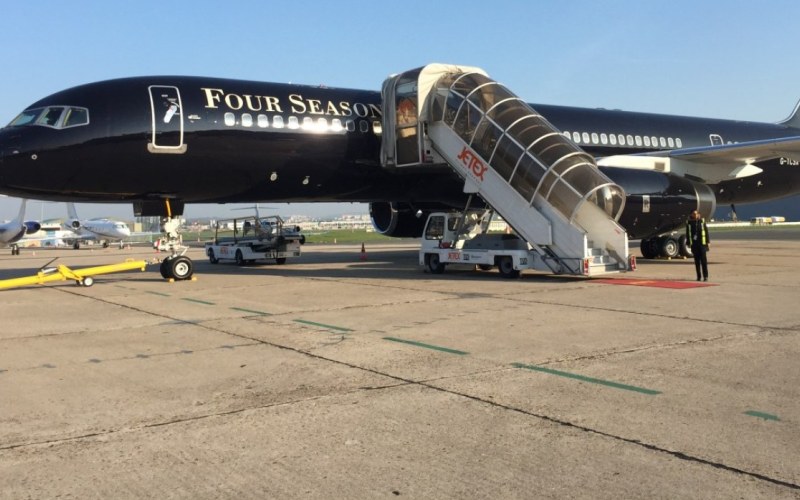 Four Seasons Private Jet Experience
In a race to satisfy a new group of super wealthy clients The Four Season's have unveiled their own private jet service. The jet is the world's first hotel jet and sorry folks thinking of joining the mile high club their is no honeymoon suite currently.  The group has been running their private jet experiences since 2012 but this is the first fully branded jet to launch.  The Four Seasons Boeing 757-200ER caters for 52 guests and the cabin is complete with handwoven carpets, white interior, modern LED lighting and Iacobucci designed hand-stitched luxury leather seats. To ensure the trip is comfortable each guest aboard the flight receives a nice travel package consisting of the following
A luxurious Mongolian Cashmere blanket
iPad Air 2
Moleskin leather travel journal
Bose noise cancelling headphones
As with Emirates business and first class flights passengers receive a Bulgari "Bvlgari" toiletry kit.
The guest don't have to worry about feeling cramped with nearly 2 meters of personal space, and if you are feeling restless there is free Wi-Fi and a onboard digital library of films and TV shows to download. Don't worry about service as the plane comes equipped with a minimum of 21 Four Seasons Hotel staff including a guest services manager "journey manager", concierge and of course an executive and sour chef to ensure you don't go hungry.  Another perk of the luxury experience requires it is a professional photographer and physician will join the tour to ensure guests get the best out of the experience.  The hotel group is aiming for guests to have the same level of service that they would in any Four Seasons hotel just at 30,000 feet above the earth.
The experience is designed to take all the hassle out of travel with the plane shuttling you between each Four Seasons hotel on your tour.  As you would expect for the price the package is all inclusive with meals, drinks, transportation, accommodation (obviously), flights (of course) and even local excursions. Executive chef Kerry Sear will ensure that you won't have a typical in-flight meal, it will be something you would be pleased to see in any Four Season's restaurant but often tailored to your recent destination as many ingredients are sourced locally during the flight.
There are two 2015 journeys available (book quick)
Backstage with the arts a 16 day tour throughout Europe

Paris France, Lisbon Portugal, Milan Italy, Istanbul, Turkey, St Petersburg Russia, Prague Czech Republic

Around the world a 24 day global expedition

Seattle Washington, Tokyo Japan, Beijing China, The Maldives, Serengeti Tanzania, Istanbul Turkey, St Petersburg Russia, Marrakech Morocco, New York New York.
There are four 2016 journeys available (itineraries maybe subject to change)
Timeless discoveries 24 day around the world journey

Los Angeles USA, Kona Hawaii, Bora Bora, Sydney Australia, Bali, Chiang Mai Thailand, Taj Mahal, Mumbai, Prague, London

International intrigue 24 day around the world journey

Seattle USA, Tokyo, Beijing, The Maldives, Serengeti, Istanbul, St Petersburg, Marrakech, Boston USA

Extraordinary adventures 25 day around the world journey

Austin Texas, Costa Rica, Lānaʻi Hawaii, Sydney Australia, Langkawi, Mauritius, Serengeti, Petra OR the Dead Sea, Lisbon Portugal

Cultural escape 19 days in Europe, Middle East & Africa

London, Petra & the Dead Sea, Dubai, Seychelles, Serengeti, Florence, London