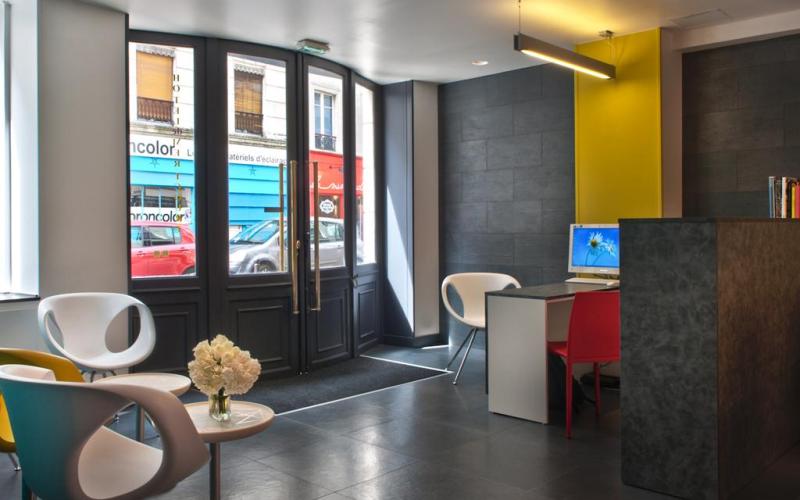 Hotel des Metallos Review
I stayed here in July 2014 when visiting for Bastille day.  Paris is always an expensive place to stay with a lot of overpriced hotels, but we found that this hotel was a great option for the price and the location was amazing.
We picked it because it was nearby so many great restaurants and cafes we ended up eating out all the time which was one of the reasons we visited Paris to enjoy the food.
The hotel's location is in the heart of Paris in crossroads of Bastille, Oberkampf (300 meters away), République and Marais, so you can easily get to several tourist hotspots fairly easily but it's far enough away to be peaceful.
I felt the room would have been amazing if the rooms had air-conditioning or a fan so if you didn't open the windows the room was something of a sauna in July.  One great thing was that the bed was super comfortable, while the bathroom was small the shower was amazing and probably large enough to fit three people. I recall WiFi was pretty good which is basically a necessity these days with our addiction to being online.
I stayed here for 4 nights in a double room, the price was a bit higher than I expected but Paris is not always the cheapest place and the quality of the hotel was quite good. The hotel was very modern and perfect for a business trip or a couples city break it is probably the best hotel in it's price range.
If you are staying here I would suggest try and get a room above the first floor as you might want to open the windows at night for fresh air and there is a reasonable amount of noise from the street below from pedestrians, car alarms randomly going off and the occasional scooter zipping past. Based on the other reviews try for the 3rd or 4th floor which have less noise and some have a good view.
The good thing about it's location is that it's walking distance to great places to eat such as Cafe Charlot, Chez Moustache, Paperboy and Le Baromètre!
Hôtel des Métallos Address:
50 rue de La Folie Méricourt 75011 Paris, France