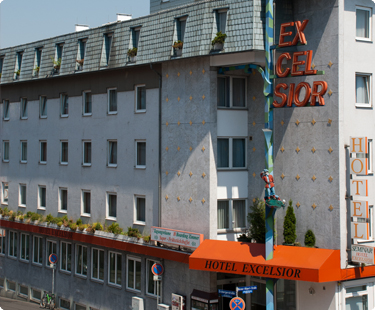 Hotel Excelsior Kassel
Kassel is a beautiful German city which is the perfect mixture of the old European lore and contemporary artistic appeal. Kassel is home to a total of 13 museums, Wilhelmshoe Castle and the Wilhelmshoe national park, presumably the largest mountain park in Europe.
Make it a point to visit the King Theater, the State Theater and the Hercules monument which is Kassel's landmark. Hercules monuments along with the cascades, which is a 250m long stone structure that forms gigantic water stairs is a must visit for all. And if you are an art lover than pieces of Rembrandt and Ruben are bound to lure you into this culturally rich city of Kassel. Kassel has been the home of the famous fairy tale writers The Brothers Grimm.
Kassel is to Germany what Paris is to France, with its rich cultural history and its love for art. And Excelsior hotel is located right at the heart of it. The hotel is situated in the city centre. It has a total of 73 rooms, provides an elevator and a parking garage. The hotel provides a super breakfast buffet. The hotel provides single, double and 10 boarding rooms. The boarding rooms come with a kitchenette. All rooms are equipped with all the modern amenities including:
Hairdryer
Telephone
Radio
Satellite TV
Safe
Fax and modem connection
Wi-Fi
The hotel also offers facilities for all your business needs. It provides 6 meeting rooms which can seat 25 to 75 people. The meeting rooms are equipped with:
Rear projector system
Wi-Fi
120 cm media wall
Whether your trip involves extensive sightseeing, truckload of work or just a getaway Excelsior hotel will make sure that it is a pleasant one.
Hotel Excelsior Kassel Address
Erzbergrstrasse 2, D-34117 Kassel, Germany