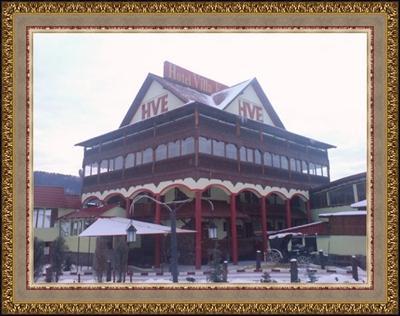 Hotel Villa Excelsior
Hotel Villa Excelsior is located in the small village of Vama which is located on the Black Sea coast near the border of Bulgaria. Excelsior is right in the middle of the Moldovian painted monasteries and the Bucovina, the UNESCO World Heritage Site. The hotel is ideally located so as to allow their guests to have access to the open air frescoes which have survived during the harshest of weathers for decades and attract thousands of tourists each year.
Vama Veche is famous for its nude beach and the Stufstock festival which draws huge crowds from all over the world. The village creates a bohemian free spirited atmosphere which makes it the ultimate destination for holidaymakers with a wild side. There are dozens of beach front bars, clubs and restaurants and most are open all day all week.
Hotel Villa Excelsior provides a local rustic environment which is incorporated with modern amenities and high class elegance. The hotel provides single and double rooms which come with the following facilities:
Excelsior provides a continental breakfast and has two restaurants, a barbecue area and a nightclub. It also provides facilities like a fitness room, game room library, garden, open air theater and parking. The hotel also provides internet access and allows pets. So whether you are visiting the village for business purposes, to enjoy the rich history and culture or just to party hard Excelsior hotel is the answer to all your living needs.
Hotel Villa Excelsior Address
Str. Mihai Eminescu 12, Vama Veche, Romania