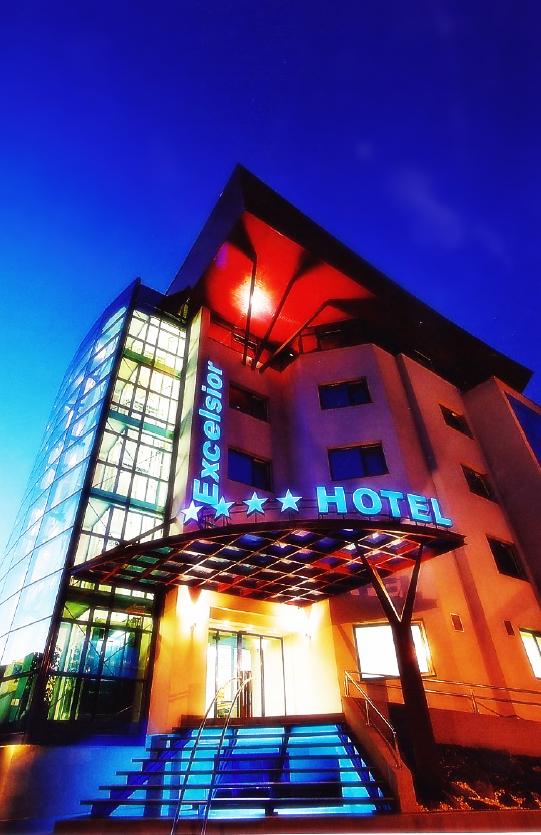 Hotel Excelsior Timisoara
The Hotel Excelsior Timisoara in Romania is a 4 star business hotel offering catering, conference and meeting rooms for up to 70 people.
Timisoara is the largest city in western Romania with around 300,000 residents and offers guests a charming ancient city nestled on the banks of the Bega river and is often referred to as "Little Vienna" by visitors.
Timisoara is perfect to visit all year round due to it's mild climate and most of the city is easily explored on foot.
Timisoara city center consists of several buildings from the Austrian Empire era. The old city consists of several historic areas for travellers to explore such as: Cetate, Iosefin, Elisabetin, Fabric.
If you are looking for food and drink there are plenty of bars, clubs and restaurants have opened in the old Baroque square "Unirii Square".
Hotel Excelsior Timisoara Facilities:
27 Double Rooms and 3 Guest Suites
Restaurant
Bar/Lounge
2 Conference Rooms
Elevator
Heating/Air Conditioning
24 Hours Front Desk
Non-Smoking Rooms
Free Guest Parking
Fitness Centre-Sauna-Massage
Safety Deposit Box
Hotel Excelsior Timisoara Services:
Room Service all day
Free Wi-Fi
International Phone Lines
TV Cable
Laundry/Ironing Service
Fax/Photocopying
Storage Room
Free 24 Hours Secure Parking
Airport Shuttle
Car Rental
Multilingual Staff
Things to do in Timisoara
Orthodox Cathedral
Victory Square (Piata Victoriei)
Roses Park
Piata Operei
Unirii Square
Alexandra Irimia- Day Tours
Opera House
Fratelli Lounge & Club
Muzeul de Arta
Memorialul Revolutiei
Parcul Copiilor
Maxair Air Tours
Iulius Mall (Shopping)
Bastionul Theresia
Bega River
Reformed Church (Biserica Reformata)
Bruck House
Banat Museum
Gradina Zoologica Timisoara "Padurea Verde"
Hotel Excelsior Timisoara Address
Komninon St. 10 & Mitropoleos Av. 23  Salonika 546 24, Romania