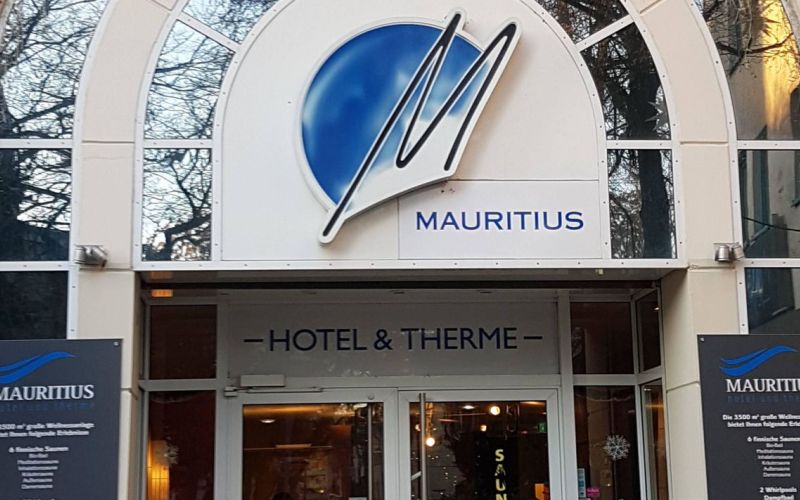 Mauritius Hotel & Therme Review
I travelled to Cologne via train from Amsterdam and it was quite a pleasant trip that took about 3 hours on the ICE. The Mauritius Hotel & Therme is located in the Old Town area of Cologne right besides the Mauritiuskirche church.
The benefits of staying here is that guests enjoy free use of their amazing 3500 m² spa with indoor and outdoor pools. Cologne Cathedral is just a 20-25 minute walk from the hotel, so if you are in town to see the Cathedral this is a perfect location.  This hotel is a perfect weekend break during winter when you just need to recharge your batteries and unwind a bit. There is also a fair number of things to do while you are in Cologne.
What I did like about the Mauritius Hotel
The massage was awesome, the service is open until late so after site-seeing, some time relaxing in the spa you can get a nice massage to end the day.   The hotel's spa facilities were great and you don't have to worry about bringing a swimming costume as clothes are optional…
What I disliked about the Mauritius Hotel
I think in summer it would been almost impossible to get any sleep in my room as didn't seem to have AC.  Another item that annoyed me was having to pay 5 euros a day per device for WiFi which was a rip-off and should have been included in the hotel cost as this is just taking advantage of travellers.
Mauritius Hotel & Therme Room Options
Standard single room
Standard double room
Comfort double
Deluxe double room
Mauritius Hotel & Therme Facilities
7 Saunas
Fitness centre
Solarium
Spa & Wellness Centre
Massage rooms
3 Hot tubs
Hammam (Turkish Bath)
Rooftop Terrace
Indoor pool
Outdoor pool
Kölner Zoo (Cologne Zoo)
Cologne is also home to the Cologne Zoo was founded in 1860 and is spread of 20 hectares containing more than 700 species of animal. The Kölner Zoo is famous for it's extensive collection of primates and active preservation breeding campaigns. The Zoo is open every day of the year and was a highlight of the trip to Cologne.
It's easy to get to the Zoo from the train station, you can reach the zoo with the underground line 18 and from Ebertplatz from the bus line 140, stop Zoo/Flora. From March to October there is also the Rheinseilbahn or Zoo Express that runs every 30 minutes from Cologne Cathedral along the Rhine and drops you opposite the main entrance of the zoo.
Flora und Botanischer Garten Köln
Adjacent to Kölner Zoo is the amazing Flora und Botanischer Garten Köln, a 11.5 hectare garden of eden that is open daily and has no entry fee.  The garden dates back to 1863 and contains around 10,000 types of plants.
The garden has close to 5,000 species of plants in 4 amazing greenhouses:
Main tropical greenhouse
Subtropical greenhouse
Cactus house
Small tropic house
Schokoladen Museum
The Lindt Cologne Chocolate Museum located in Rheinauhafen is the world's only museum dedicated to the history of chocolate and cocoa. It's a fun place to visit when the weather turns bad, that offers chocolate tasting, special exhibitions and the ability to create your own custom chocolate creations.  The schokoladen museum has an amazing store if you are looking to load up on amazing chocolates, cocoa products and sweets from around Germany, Europe and the world.
I stayed here in October 2014 in a standard single room.
Mauritius Hotel & Therme Address:
Mauritiuskirchplatz 3-11, Altstadt-Sued, 50676 Cologne, Germany