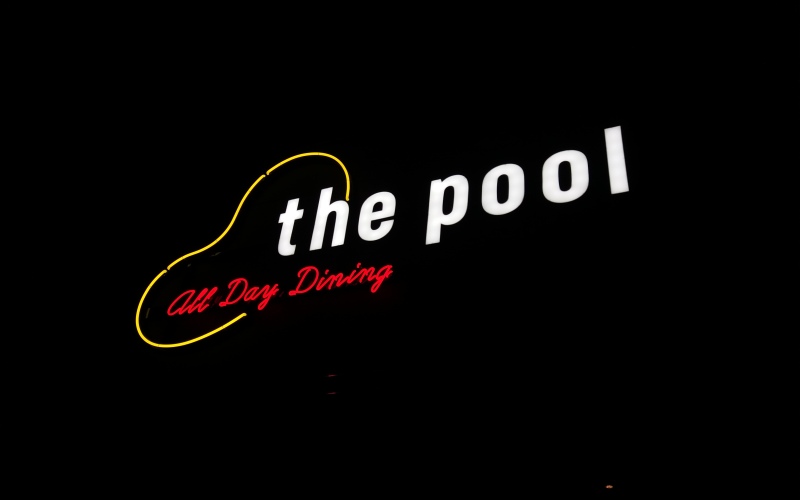 The Pool Amsterdam
We ended up here on a Thursday night after a team event, it was great to have a new place to checkout along Wibautstraat which is just near my office. The overall effort that has been made converting this space into something unique is part of why they get a four star review
As a few other reviewers have pointed out the service could have been better, they were not as proactive as they could have been and we had to push to get attention at times when we wanted to order. It could have been just that this place was new but the staff were not as efficient as you would expect when it comes to organising more food and drinks. They had some great cocktails but I stuck with mineral water which was just fine.
The starters were good, we got a mixture of dishes that included baba ganoush, hummus, fish, feta pastry and a margarita pizza. They all tasted great and everyone managed to polish off everything on the plate with the pizza being one of the favourites.
I decided to go with the couscous and lemon chicken for main course but it was a little too spicy but not so bad that I couldn't finish the chicken but one that ensured I consumed all my mineral water. The spiciness of the dish was one factor that contributed to the lower rating as I didn't enjoy my meal as much as I wanted to.
So be aware that several of their dishes are a little spicy but the quality of the food is great and they have a decent range of vegetarian, meat and fish options. If all else fails they have some amazing pizzas so you can be sure you will find something for everyone.
The only real downside to the night was the mint tea's we ordered, they were all very bland tasting and seemed to smell and taste of plastic, we had 5 so it can't have been a one-off issue. When I raised the issue the staff but we said if they are all tasting the same there isn't much use trying another one. They were polite enough to take the mint tea's off our bill but it was still a little disappointing.
I did finish up dinner with an amazing dish spanish churros with chocolate sauce, I would have to say they were magically prepared, and had the perfect combination of temperature, colour, flavour and balanced between fluffy inside and crunchy outside. I would recommend if you visit The Pool you try their churros!
The Pool Amsterdam Opening Hours
Mon 7:00 am – 12:00 am
Tue 7:00 am – 12:00 am
Wed 7:00 am – 12:00 am
Thu 7:00 am – 12:00 am
Fri 7:00 am – 1:00 am
Sat 7:00 am – 1:00 am
Sun 8:00 am – 10:30 pm
The Pool Amsterdam Address
Wibautstraat 131 A, 1091 GL Amsterdam, The Netherlands
Post Tags: