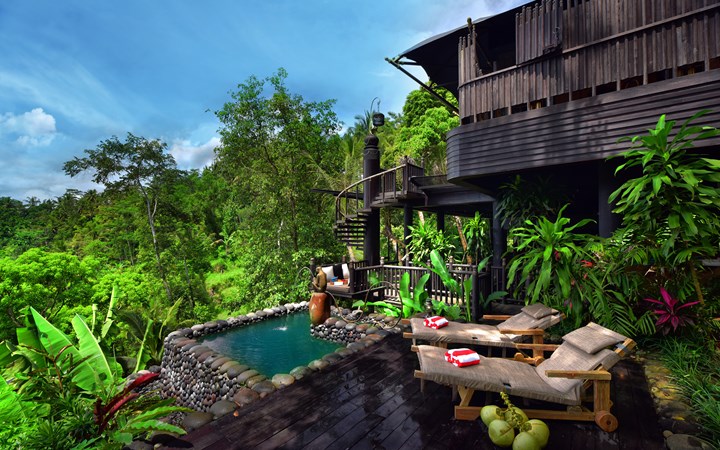 Capella Ubud opens in Keliki, Bali
If vision and innovation were a person then that person would be Mr. Bill Bensley who has designed approximately more than 200 resorts in 30 countries. The visionary encourages people to think and worry about renewal and quality; such is the case of the creation of Capella Ubud, this construction is the first of its two store-style properties that will open this year (the first will open at the end of the year in Cambodia and is named: Shinta Mani). The property is nestled in Ubud's rain forest and the Wos river, the perfect location for tranquility to take hold.
Its construction was carefully executed based around what Mr. Bill Bensley experienced growing up camping in a tent and also mentioned that the purpose of this creation was because tents as modern sites separate guests from their comfort zone and allow them to interact closely with the nature, so they are not conventional places and due to their size and flexibility, visitors can easily "let go" on this site. At the beginning, his idea had been to build a typical hotel structure, with hundreds of rooms, considering that if he executed it in this way "Not only that would have meant the destruction of the forest," he says, but "the magical concert of the morning" of the Balinese birds and the sun crawling on the forest floor would be lost in a conventional hotel room. "
The dimpled teak floors handcrafted in Java Central, together with a majority furniture including the doors carved by hand, with a Dutch touch with a distinctive Balinese feel that he and his team of designers carefully built.  Although the complex is fairly extensive during the construction process they did not disturb any tree in the area.
A very particular idea was to use bronze monkeys that are found everywhere and it arose because they "never stop making people smile," he said. He also reported that "Too many hospitality projects are taken too seriously."
The place consists of 22 one-room tents and a two-bedroom cabin in Keliki Village. Public facilities include a 30m pool, jungle training camps and a spa menu. While each tent has saltwater pools with Jacuzzi. In the same way you can find through your signature Auriga spa adventure wellness programs that take advantage of the surroundings of the jungle.
Rates start at $ 838 and include breakfast at Mads Lange but other dining options include Api Jiwa, the Camp Fire, bespoke private dining and in-retreat dining.  The package includes use of smart phones that include long distance calls, select beverages, personal assistant services, camping trips, mountain bikes and car transfers to the airport with a two-night stay. The Capella Ubud will premiere on June 29 in Bali and offer a relaxing and stimulating stay in communion with nature for an unforgettable adventure.
This article is also available in: