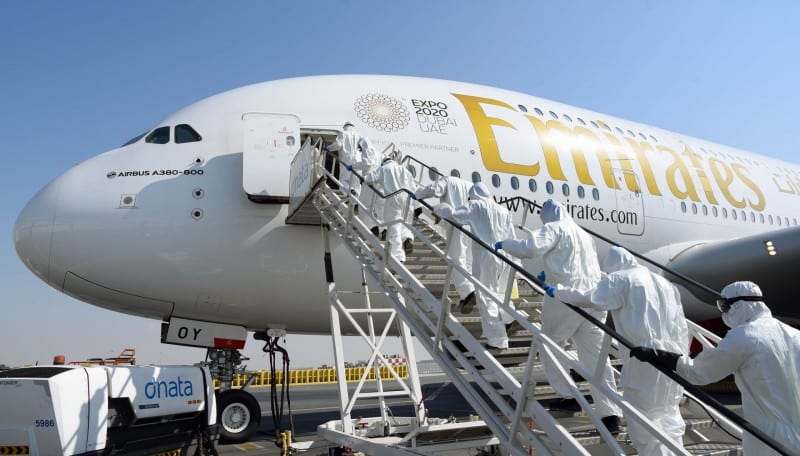 Emirates Coronavirus updates
In response to the latest developments in the COVID-19 outbreak around the world, Emirates is taking extra steps that go above and beyond industry and regulatory requirements to ensure our customers' health and comfort, and provide you with confidence and peace of mind when planning your travel.
We have implemented enhanced cleaning and disinfection on all aircraft shown in the video below
Enhanced cleaning and disinfection on Emirates planes
On all aircraft departing from its hub in Dubai, Emirates has implemented enhanced cleaning and complete disinfection of all cabins as a precaution. In line with the latest expert medical finding that the COVID-19 virus is primarily transmitted by touch, Emirates has placed its greatest focus on surface cleaning.
The airline uses an approved chemical that is proven to kill viruses and germs, leaves a long-lasting protective coating against new contamination of viruses, bacteria and fungi on surfaces, and is eco-friendly.
The cleaning process includes a comprehensive wipe down of all surfaces – from windows, tray tables, seatback screens, armrests, seats, in-seat controls, panels, air vents and overhead lockers in the cabin, to lavatories, galleys and crew rest areas. All of this is done in addition to other normal procedures such as changing head rest covers on all seats, replacement of reading materials, vacuuming, and more.
To complete this thorough cleaning process within an hour while the aircraft is preparing for its next mission, requires a team of 18 trained cleaners on a Boeing 777, and a team of 36 for an A380. In a 24-hour period on an average day, some 248 aircraft go through this process.
On any aircraft that were found to have transported a suspected or confirmed COVID-19 case, Emirates would go even further, and implement deep cleaning and disinfection in a process that takes between six to eight hours to complete. This includes the defogging of cabin interiors and misting with disinfectant across all soft furnishings, and replacement of seat covers and cushions in the affected area. The aircraft's HEPA cabin air filters will also be replaced.
All of Emirates' aircraft are fitted with HEPA cabin air filters which are proven to filter out 99.97% of viruses. They also remove dust, allergens and microbes from the air recirculated into the cabin and cockpit, which helps to provide a safer, healthier and more comfortable environment for the passengers and crew.
Peace of mind on travel plans with no change fees
Emirates is also providing customers across its network added flexibility, choice, and value; with the ability to change their travel dates without change and reissuance fees. With the current developing conditions around the globe, we understand that your travel plans might change. So we're giving you the flexibility to reschedule your trip with no change fees. Any booking made on or before 31 March 2020 now comes with the option to adjust your travel dates at zero charges.
Helping loyal flyers retain tier status
Recognising that some of its members will be impacted by travel restrictions and flight reductions, Emirates Skywards is providing its Platinum, Gold and Silver members the ability to maintain their current status by fulfilling 80% of their tier travel requirements between 31 March and 30 June 2020. In addition, Skywards members booked to travel between 1 March and 30 June 2020 will be able to benefit from an additional 20% bonus Tier Miles. We have implemented fee waivers for changes to bookings made on or before 31 March 2020, and are offering bonus tier miles and reduced tier travel requirement to help Skywards members retain their status.
Monitoring and response protocols
The safety and well-being of customers and employees is a topmost priority at Emirates. Since January, the airline has activated its contingency response team to monitor daily developments on the COVID-19 outbreak, maintain contact with all relevant health and regulatory authorities, and ensure the airline's response is current and appropriate. Emirates continues to work closely with all its partners and industry stakeholders, to ensure travellers can continue their journeys with the assurance that their wellbeing and comfort remains at the forefront.
Travel and immigration restrictions: Several countries have imposed travel and immigration restrictions due to COVID-19. All customers are requested to check relevant travel advisories from and to the countries to which they are travelling. This is a dynamic situation and it is the responsibility of the customer to ensure there are no entry restrictions at their travel destination. IATA Travel Centre provides a list of travel advisories relating to COVID-19 here.
We are experiencing high call volumes due to COVID-19. If you are not travelling in the next 72 hours please consider calling us later. We can usually answer your call quicker if you can speak to us in English.
FLIGHT UPDATES
The situation remains dynamic, and our flight schedules may change at short notice to comply with regulatory directives or operational requirements. We aim to provide affected customers with updated information as early as possible.
To receive the latest notifications, customers should ensure their contact details are updated by visiting Manage booking. Customers can also check the website for the latest flight updates, rebooking and refund options.
REFUNDS AND REBOOKING POLICY
Refunds and rebooking conditions for customers impacted due to travel restrictions imposed by the affected countries
Ticketed to travel till 31st May
Rebook permitted up till 30th June
Reroute permitted up till 30th Jun to selected destinations only. Applicable fare difference if any would apply.
Travel Vouchers for ticketed value.
Refund of unutilised tickets
Customers impacted due to flight cancellations (not including Iran)
Ticketed for travel till 31st March
Rebook permitted up till 30th June
Reroute permitted up till 30th Jun to selected destinations only. Applicable fare difference if any would apply.
Travel Vouchers for ticketed value
Refund of unutilised tickets
**Refund and rebooking
Affected customers should contact their travel agent or Emirates office for rebooking options or refunds. To request a refund, customers who booked directly with Emirates can visit the Request refund webpage and add "Refund request due to Coronavirus" in the comments section. Customers who booked with a travel agent must contact them for a refund.
Emirates flights to/from Iran are cancelled till further notice. Customers across the Emirates network holding tickets for final destination Tehran will not be accepted for boarding at their point of origin until further notice.
Customers holding unused tickets for travel to /from Iran booked to travel till 30th June 2020 may opt for a travel voucher for the ticketed value for future use or refund, by contacting their travel agent. Or if they have booked directly with Emirates, visit the Request refund webpage and add "Refund request due to Coronavirus" in the comments section.
HEALTH SCREENINGS AT DUBAI INTERNATIONAL
The Dubai Health Authority (DHA) is conducting a COVID-19 test on customers arriving from Beijing, Beirut, Rome, Milan, Venice, Bologna, Bangkok and Phuket if Dubai is their final destination.
Customers will be given DHA's Health Declaration Forms, which they should complete and hand over to the DHA during the COVID-19 testing in Dubai. Our airport services team will escort customers to the health screening area at Dubai International airport on arrival.
Customers who are transiting through Dubai International airport will not be tested, but will have to go through temperature screening before boarding their connecting flight.
Source: Emirates.com
Last updated: 9 March 2020, 16:29 Dubai (GMT+4)