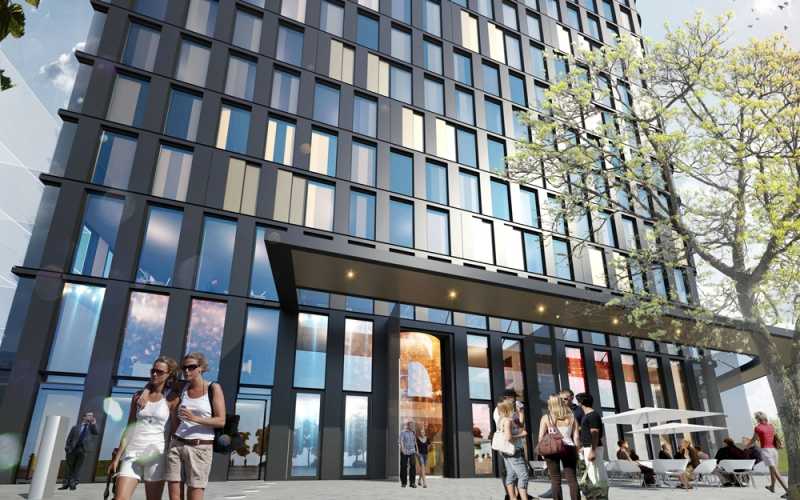 Hotel Amstelkwartier opens in 2016
It's just under 12 months away, but the September 2016 opening of the 292 room Hotel Amstelkwartier has already generated a lot of interest as last week the building reached the highest point which forms the structure for the rooftop greenhouse.
The sustainable hotel was designed in cooperation between Paul de Ruiter and Mulderblauw architects and the first hotel in Europe to receive LEED Platinum certification the highest certification.
LEED certification is a set of ratings systems for the design, construction, operation and maintenance of green buildings that focuses on ensuring building owners and operators are environmentally responsible and use resources the most efficiently.
Food produced on the rooftop greenhouse will be used to provide fresh locally sourced products for it's restaurant and any extra food sourced will be from local businesses.  The greenhouse will also experiment with vertical farming which was a popular food production innovation method shown off at the recent EXPO Milan. Any organic waste from the hotel will be processed to produce biogas which will be used to heat the hotel. Gray water systems are used to flush toilets, rainwater is used to water the plants in the greenhouse reducing the amount of waste water the hotel generates and drinkable water it wastes. 5 thousand tons of concrete removed from the old Shell Tower (Toren Overhoeks) was given a new life when it was recycled and used in the construction of Hotel Amstelkwartier which would have previously ended up in landfill.
The hotel focus on sustainable luxury for the guests with floor to ceiling windows for plenty of natural light but also breathtaking views across Amsterdam.  Each room has the ability to be naturally ventilated which reduces the need for guests to have to rely on power hungry air purification and air-conditioning systems.
The hotel will be operated by Crowne Plaza when it opens in September 2016 and will be the start of a wave of sustainable hotels operating in Amsterdam and Europe as guests start to expect they are staying at a LEED certificated property.