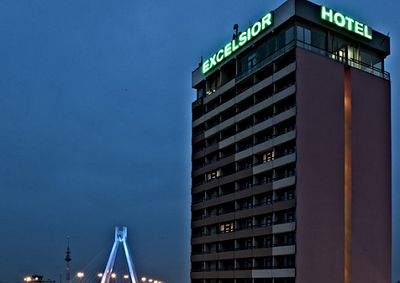 Hotel Excelsior Ludwigshafen
Ludwigshafen is known as the chemical city, because of its chemical industry the BASF. It is also the birthplace of the former German Chancellor Helmut Kohl and the philosopher Ernst Bloch.
The main tourist attractions in Ludwigshafen include boat rides on Parkinsel beach, visits to the historic Heidelberg and its castle and the Palatinate forest.
The city also has a casino a shopping centre and a holiday park. Excelsior hotel is located in the centre of Ludwigshafen which makes the city easily commutable.
It is a 17 story building with 160 rooms with balconies. The hotel offers a free parking lot and a parking garage for a small fee.
The hotel has single, double and triple rooms along with separate business options in single and double rooms. Children under the age of 10 stay free of charge. The amenities include:
Cable TV
Wi-Fi
Minibar
Telephone
Guests living in the business accommodations have the option to make coffee or tea in their own rooms. The hotel offers a rich breakfast buffet available until 10:00 on weekdays and until 10:30 on weekends. Excelsior has a smoking lounge and a cocktail bar which provides a 360 view of the Rhine metropolis.
Ludwigshafen provides a number of recreational facilities like bowling, skating rink, tennis and a public swimming pool, which are all less than 2kms away from the hotel Excelsior. The city also has a 9-hole golf course almost 10kms away from the hotel.
Hotel Excelsior Ludwigshafen Address
Lorientallee 16, Ludwigshafen, Germany