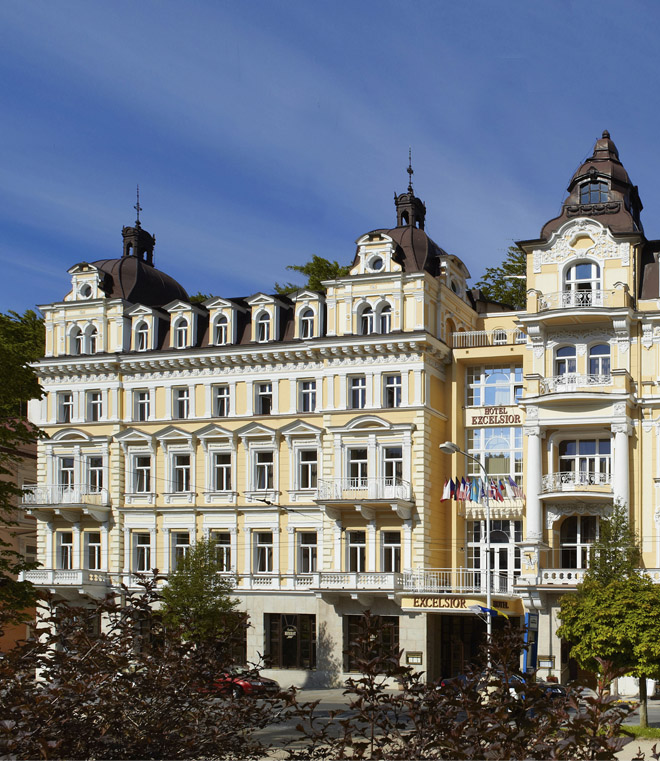 Hotel Excelsior Mariánské Lázně
The Hotel Excelsior Mariánské Lázně previously known as the Orea Hotel Excelsior is a perfect retreat for travellers looking for a romantic getaway filled with all inclusive spa treatments and treks through Marianske Lazne's mosaic of lush parks since 1871. Guests looking to dabble in the history of bygone ages can definitely look forward to visiting the landscape that is famed for its romantic constructions like Diana's temple, the Three Graces, and other exciting tourist attractions.
The first-class Excelsior Mariánské Lázně is a marvel in itself as well for more than 150 years. A stay at the four star accommodations comes with a range of impressive amenities like a solarium and airport shuttle services.
The hotel offers comfortable accommodation options with 64 rooms ranging from single bed to suites.
Hotel Excelsior room options are:
3 Suites
3 Junior Suites
14 Double rooms Deluxe
26 Double rooms Comfort
9 Double rooms Standard
8 Single rooms Deluxe
The rooms shown above are also comfortable with marble bathrooms, balconies, and picturesque views of lush parkland.
A 24 hour reception desk and free Wi-Fi in public areas of the complex are convenient for guests on business trips as well.
Room Service
Restaurant
Pet Friendly
Disabled Access
Air Conditioned
Non-Smoking Rooms
Mini Bar
Cable / Satellite TV
Hair Dryer
Shower
Desk
Direct dial phone
Breakfast in the Room
Guests who prefer to spend more time taking in the sights can do so through the many tourist trips on offer. One of the most sought after is a trip from Brno by motorway. Gaze at the noble chateaus, the former residence of the Lichtenstein family, or take a walk through a number of romantic parks. Guests can also choose to tour the battlefield sights of Slavok or visit a museum with exhibits depicting the Napoleonic wars.
Hotel Amenities
Concierge
Elevator
24 Hour Reception
Multilingual Staff
Safe-Deposit Box
Meeting Rooms
Laundry service
Facsimile
Luggage Storage
Designated Smoking Area
The hotel takes customer satisfaction very seriously which is evident from the lavish buffets served at the Restaurant "1900", with a luxurious atmosphere created by period interiors and beautiful decorations.  Head Chef Evarist Tintěra takes his cuisine seriously and also manages Churchill's Pub & Restaurant with a popular combination of traditional recipes.
For the more relaxing options there is Churchill's Pub & Restaurant that offers you amazing international and Czech gourmet cuisine. All of the dishes on offer are made with freshly made seasonal produce and will be some of the best food you can find in the area. The hotel also offers room service for guests who prefer to stay in the luxury of their rooms.
Hotel Excelsior Mariánské Lázně Address
Hlavní 121/46, Mariánské Lázně, 353 01, Czech Republic