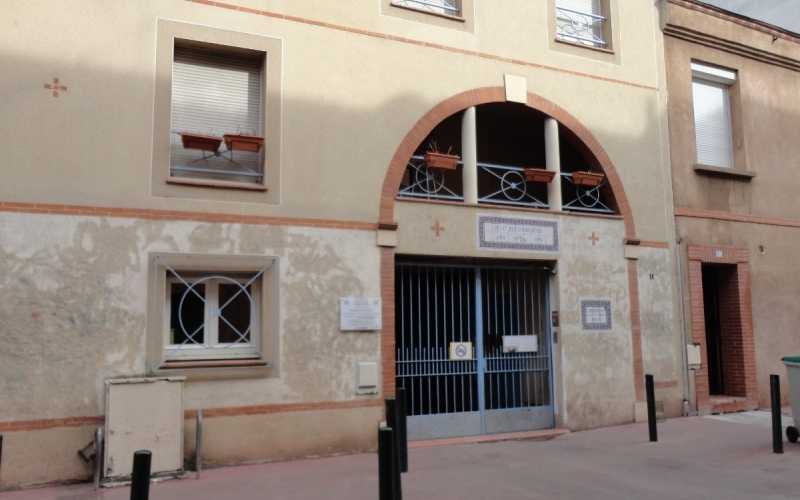 La petite auberge de Saint-Sernin
You can't really beat their location to Old Town. As for making guests feel secure they have a pretty hefty security door stopping random people walking into the hostel but if you are arriving outside of office hours check your email for the access code.
They also have a lock box for late arriving guests to collect their keys which is always a nice bonus when the hostel doesn't have a 24/7 reception.
The reception hours are also quite weird as they are closed during lunch so be aware if you leave your luggage in storage after you checkout you might have to plan ahead when you need to get your luggage out, I screwed up and the reception was closed but I found a member of the cleaning staff who was able to access the luggage storage outside of reception hours.
The room I stayed in had a basic kitchenette (bar fridge, hot plate, sink, microwave, kettle) and bathroom, but it's a bit dated and could do with some renovation as it's probably coming to the end of it's life.  The hostel overall shows a bit of wear and tear so I'm sure with a bit of money invested the hostel could be vastly improved for guests, starting with the common area.
It was strange to receive a key as most hostels have swapped to electronic swipe or NFC keys these days which offer a higher level of security and can log when doors were accessed and by who.  The beds were not that comfortable but good enough for a two nights and there wasn't enough power points if you needed to charge your phone, I was lucky there was only one other traveller staying in the dorm so we just unplugged the microwave.
The nice bonus was the room had a cute little balcony overlooking the street below, I was lucky that my room mate didn't have the sudden urge to cook at 11pm at night or at 6am as apparently some other guests had happen.  Also because of it's location to nearby bars and restaurants consider taking some earplugs if you are a light sleeper and staying here during the weekend.
The communal area was basically a collection of all the guests that smoked so passing in and out of the hostel was often like walking through a smoking room at an airport which really just pissed me off as I hate the smell of cigarettes. It annoys me a lot when people smoke inside a hostel no matter if they are allowed it not, the smell gets on all the furniture, the walls and stale cigarette smoke smells even worse.
The hostel does have an upside the lack of any real atmosphere or social interaction if you don't like sitting around smoking is that it forces you to get out and explore the city. This is one of those hostels that you just pick if you need a place to sleep for the night, it's not a party hostel but all the guests were respectful and the staff were kind. Remember the location is about 5-20 minutes walk from most of the cities main attractions so if playing tourist is why you are visiting Toulouse then this is the perfect hostel and the town doesn't have that many other hostels to choose from so I'd probably suggest staying here.
Hostel Inclusions
Free WiFi
Linen included
Luggage storage (closed during lunch)
Self-Catering Facilities in rooms
Lockers in room
La Petite auberge de Saint-Sernin Address
17 rue d Embarthe, Toulouse, France
Stayed 6th November 2015
Accommodation Type: 4 bedroom dorm
Summary
Reviewer
Review Date
Reviewed Item
La petite auberge de Saint-Sernin
Author Rating