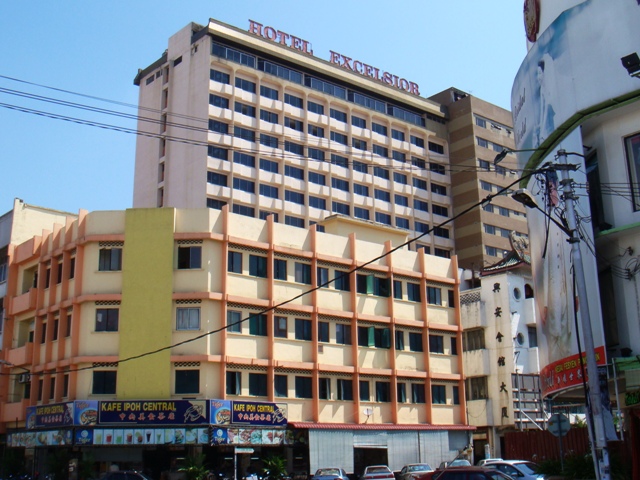 Hotel Excelsior Ipoh
Ipoh is a haven for food and history lovers. The city is a testament to the architectural marvel of the British Colonial era. Ipoh is surrounded by limestone caves which are a major tourist attraction. Don't worry there are plenty of things to do in Ipoh when you visit such as the Sam Po Tong is a breathtaking Chinese temple built within a limestone cave, and is a must see for anybody visiting Ipoh.
Ipoh is also famous for its rich and exotic cuisine, its Hor Hee, a dish made from rice noodles and fish cakes and the widely popular Ipoh white coffee are favourites for visitors and locals alike.
Hotel Excelsior is Ipoh's first international hotel ideally located in the centre of the business and entertainment district. It has a total of 200 rooms which are available in suite, single, double, twin and triple rooms.
All of these rooms come with an upgrade to deluxe accommodations. All rooms have the following facilities:
Air conditioning
IDD telephone
Televisions
Minibar
Tea and coffee machines
The hotel offers a friendly and efficient staff and prides itself in providing a comfortable environment. It offers a sheltered car park, a Chinese restaurant, a Lounge and Grill, a coffee house and a health centre with massage and gym. Wi-Fi is available in the coffee house and the lounge. The hotel also offers the following services:
Facsimile and photocopying
International currency exchange
Safety deposit boxes
24 hour security
The Excelsior ballroom on the 14th floor provides a panoramic view of the city and is ideal for parties, launches, and weddings. The hotel also provides facilities for conferences and meetings with the latest audio and visual equipments.
Hotel Excelsior Ipoh Address
43 Jalan Sultan Abdul Jalil, Ipoh, Malaysia